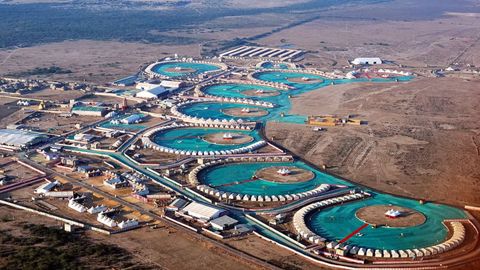 Here's another reason to visit Gujarat this winter — the state's Dhordo village was just named among the best tourism villages announced by the United Nations World Tourism Organization (UNWTO).
The destination, which hosts Rann Utsav every year, joined 53 other villages from across the world in the list that was released on October 19, 2023.
What makes Dhordo excel as a tourism village?
When are you booking your trip to Dhordo?

This village in Kutch, Gujarat has been honoured with the "Best Tourism Village" tag by @UNWTO.

Don't miss the opportunity to experience the annual cultural extravaganza of the Rann Utsav at the tent city here that begins on November… pic.twitter.com/VObsp94wbt

— Piyush Goyal (@PiyushGoyal) October 20, 2023
The UNWTO recognises rural travel spots that have incredible natural and cultural assets, a commitment to preserving local communities, and dedication towards innovation and sustainability across economic, social and environmental areas. The villages on the list, of which Dhordo is a part, are selected based on nine key areas:
Cultural and natural resources
Promotion and conservation of cultural resources
Economic sustainability
Social sustainability
Environmental sustainability
Tourism development and value chain integration
Governance and prioritisation of tourism
Infrastructure and connectivity
Health, safety, and security
In a statement, UNWTO Secretary-General Zurab Pololikashvili said, "Tourism can be a powerful force for inclusivity, empowering local communities and distributing benefits across regions. This initiative acknowledges villages that have harnessed tourism as a catalyst for their development and well-being."
Earlier this year, Dhordo also hosted the first Tourism Working Group Meeting of the G20. It was chosen among the best tourism villages by the UNWTO from almost 260 applications that were submitted for the third edition of the list. The Great Rann of Kutch, which visitors come to see during Rann Utsav, is one of the largest salt deserts in the world. The Utsav, on the other hand, hosts a variety of tourism-centric activities such as a bazaar housing local Kutchi handicrafts, music and dance performances, camel rides, night safaris and village tours, and offers delectable local cuisine, making it a must-visit for culture enthusiasts.
Some other villages on this list include Dongbaek in the Republic of Korea, Oku-Matsushima, Biei, Hakuba and Shirakawa in Japan and Siwa and Dahshour in Egypt, to name a few. Additionally, 20 more villages, including India's Madla, are part of the UNWTO Best Tourism Villages Network's Upgrade Programme.
Find out more about the list here
(Hero and feature image credit: Piyush Goyal/@PiyushGoyal/X)
Related: India's Santiniketan And 3 Hoysala Temples Among The New UNESCO Heritage Sites List
Written By