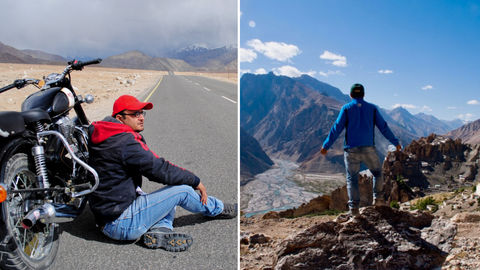 Dheeraj Sharma, blogger at Devil on Wheels has itineraries and pro-tips on the Himalayas that helps travellers traverse the mountains smartly, safely, responsibly and economically. The 35-year-old manages his blog alongside a full-time job in the USA and runs to the Himalayas whenever he can so that he can bring you stories from the gorgeous mountains. By Team T+L
1) Your blog – Devil on Wheels – is just dedicated to travel in the Himalayas. Why?
I'd gone to Chandratal in the summers of 2009. I was completely new to the experience and knew nothing about high altitudes and what they can do to your body. Negligence and foolishness resulted in a situation where I had almost washed my hands of my life. However, I came back without any major injury. That was the day when I realised that I should do something for fellow travellers; share some valuable and practical tips about travelling to high altitudes in the Himalayas. That is what primarily gave birth to my blog.
However, that does not mean that I don't blog on other places; after having moved to the USA a few years ago for work, I started a section on my blog where I documented my travel in the USA and had tips for Indians moving to America as well. But yes, my focus is mostly the Himalayas in India – that's where my heart lies.
2) How long has it been since you started your blog? Take us through your journey. How has social media helped you to carve a niche for yourself in the blogosphere?
I started Devil On Wheels in 2009 at a time when I was struggling in life, and nothing seemed right for me. One day out of the blue, I decided to get behind the wheels and go explore nature. I had set out thinking I will get the answers to my questions. I don't think I got my answers, but what I did get was a whole lot of experience and a new perspective towards life.
Facebook in the olden days helped a lot in building my brand; when organic reach was a thing. I met a lot of like-minded people through the medium. And then, it was also the offline meet-ups in person with like-minded folks that helped build a community of followers.
However, Facebook hasn't helped much since they directly or indirectly killed organic reach; so I started focusing more on generating useful travel content for my readers, sticking to my forte, which is Himalayan content. Plus, regular interaction with my followers by replying to the comments and queries had also helped a great deal.
3) You talk about building a community that travels responsibly on your blog. Can you take us through what travelling responsibly means to you?
For me, being a responsible traveller is to protect the beauty of Himalayas. We have to be sensible about how we travel to eco-sensitive zones and know about what harms the environment. I try and conduct DoW Mega Meet every year to ensure we spread the knowledge of responsible travel among travellers, have organised clean-up drives in Kasol, dental camps in Harsil and have set up a DoW Spiti Library in Kaza in Spiti Valley.
4) If you had to pick three places in the Himalayas everyone must visit, what would they be? And why?
Hanle Village in Ladakh: For its amazing night skies and vast remoteness.
Kinnaur – Spiti – Manali: A self-drive circuit for an unbelievable adrenaline rush and an unforgettable road trip.
Tirthan valley in Himachal: To spend some rejuvenating time with your family and friends.
5) You manage your blog alongside a full-time job in the USA. How do you do it?
Since I moved to the USA three years back, I haven't had the chance to travel in the Himalayas as much as I would have liked. I am planning a proper trip in April 2019, and hopefully, it'll work out. I work in an IT company as a full-time employee and my blog is a philanthropic initiative to help the locals of the Himalayas as well as help the travellers plan a trip to the Himalayas — smartly, safely, responsibly and economically. It's my passion for both work and travel that helps me handle the two quite seamlessly.
6) What do you think the travel trends for 2019 are?
I can see that more people are travelling to remote and secluded places across the world. Also, there has been an increase in the number of people who want to go camping and on solo trips. People are also experimenting with the way they blog about their travel stories — there's a lot of variety online.
7) Your Instagram is flooded with pictures of the gorgeous mountains. Tips to aspiring travellers on how to click great pictures while travelling?
I highly recommend travelling and living in the moment, as opposed to thinking about capturing the best pictures for social media. If you want to click pictures, always dedicate some time to it, don't do it in a rush. Also, the more peaceful your mind, the happier you will be with the results. Pro-tip: I always carry a mini-tripod for my phone to take pictures. It helps a lot!
8) How much time have you spent exploring the mountains? Has it changed the way you look at life?
Until work brought me to the USA, I used to spend at least a 1-1.5 months travelling to the mountains on an average in a year. It involved everything from long trips, weekend trips to medium-sized trips with my family. Ever since I started travelling to the Himalayas, my life completely changed and for the better. The mountains made me realise that no matter who you are, you're just a speck in the vast expanse of nature. The simple thought has had a deeply profound impact on my life. It made me humble, gave me a reason to love, a reason to smile, and a reason to feel alive.
Related: You Can't Miss Blogger Aamir Wani's Shots Of Kashmir That Reveal The Hidden Gems Of The Valley
Written By