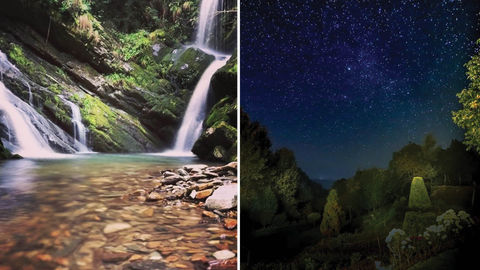 Blessed with scenic grandeur and apple orchards aplenty, Uttarakhand's Dhanachuli is a peaceful paradise waiting to be explored. If you're a busy Delhiite sick of the pollution and incessant honking, then this tiny hamlet is the ideal weekend getaway for you. By Bayar Jain
Not far from the country's capital – six hours to be precise – lies a sleepy village with sparse populations. Tourists, too, are a rare sight here. Instead, lush subtropical forests, coniferous trees, and the mighty Himalayas bow down to you, while the gentle mountain breeze kisses you ever-so-gently. Dhanachuli, the relatively unknown tiny hamlet in Uttarakhand's Kumaon region, is as rejuvenating as it is refreshing. Away from the frenzied hurry of the state's crowded towns, the spellbinding beauty of this tropical pahari destination will floor you with its natural charm. The raw, rustic vibe will seep into your skin; tempting you to spend more than a weekend here. But for now, here's a two-day guide for you to get a taste of Dhanachuli's alluring lifestyle.
1. Bhalu Gaad Waterfalls
The best way to kickstart your mountain vacation is by losing yourself to the roaring thunder of waterfalls. The 60-feet high Bhalu Gaad Waterfalls is this gushing spot here. A quick hike up the mountains and you'll find yourself facing the crystal-clear waters plunging into a horse-shoe shaped water body. Try waking up early to catch a sunrise here, or even a stray bear catching its share of nature's glory. Adding to the spectacle is a rainbow that forms at the bottom of the Bhalu Gaad waterfalls irrespective of whether, giving rise to its local name – Rainbow waterfall.
2. Rajarani Temple Constructed during the 11th century, the Rajarani Temple seems to be stuck in time. With stone sculptures portraying a variety of dance postures housed within the sanctuary, the surrounding green enclosure creates a lovely contrast. Irrespective of whether you consider a religious person or not, the calm aura of the temple is bound to send you to a state of spiritual bliss.
3. Peora
Lying only eight kms away from Dhanachuli, Peora is also known as the Fruit Bowl of Uttarakhand – and rightly so! From apples to plums, peaches to pomegranates, flourishing orchards don every backyard here. Kaphal, a tangy berry native to the state, also seek refuge here. However, nutritious goodies aside, Peora also offers space for sal, pine, oak, and rhododendron trees. This eco-tourism space also caters to shopaholics by housing markets that sell herbal face and skincare products, and authentic spices.
4. Chauli ki Jaali
Translating to 'rock' and 'hole', the Chauli ki Jaali is believed to have been a battlefield for Gods and Goddesses. There is a trunk of an elephant, a shield and outlines of a sword, which serve as the testament of the struggle. Moreover, the area is a paradise for nature fanatics – mesmerising Himalayan views, enchanting valley views of Kumaon, and a gloriously clear sky overhead. In fact, this cliff is famous among adrenaline seekers as well, thanks to the varied landscapes for rock climbers to triumph.
5. Methodist Church This centenarian Methodist Church has stood the test of time in the best possible ways. Although at a little distance from Dhanachuli, the tin-roofed church is worth going the extra mile. On entering, lovely bells on the steeple ring in your ears, while the red and white structure soothes your eyes. The building even has a low wooden door, which is open for visitors only for an hour on Sundays.
6. Victoria Dam To put it simply, a harmony of nature and man-made structures lie in symphony here. Situated 12 kms away from Dhanachuli, the Victoria Dam oozes with natural charm. Flower gardens surround the structure, doubling as the ideal picnic spot for families to enjoy a meal. A 17th Century Bhimeshwar temple, a major tourist attraction for devotees during the festival time, is also located in close proximity to the dam.
Related: 5 Not-So-Popular Places In Uttarakhand For You To Explore This Year
Written By