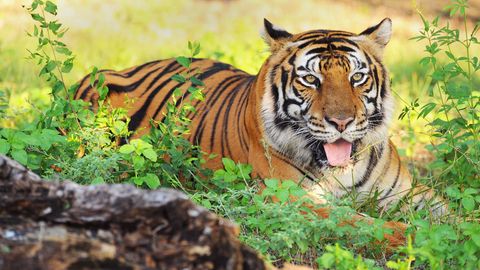 Delhi zoo gets its first Royal Bengal Tigress from Kanpur for conservation breeding but loses one of the males to chronic illness. By Tanvi Jain
View this post on Instagram
As part of an animal exchange programme, a Royal Bengal Tigress named Barkha has for the first time in six years, been brought in from Kanpur zoo to Delhi, for conservation breeding. The tigress will be paired with another six-year-old tiger called Karan.
As reported by various media houses, "The Delhi zoo did not have a Royal Bengal tigress for six years despite it being a participating zoo for the Conservation Breeding Programme of Bengal Tiger, according to its director Ramesh Pandey."
"Our focus is to take conservation breeding forward. It is the science of conserving a species by preventing imminent population collapse in the wild due to a large number of eliminative pressures such as habitat loss, habitat fragmentation, industrialisation, poaching, illegal trade and climate change, among others. The Delhi zoo has a history of participating in the conservation programmes of different species," Pandey told Hindustan Times.
View this post on Instagram
However, up until last year, Delhi zoo had three Royal Bengal Tigers, out of which eight-year-old Rama, who was brought from Mysore in 2014, had died in September 2019, due to kidney failure. Unfortunately, the zoo recently lost another 15-year-old tiger, Bittu, to a chronic kidney disorder. He was brought in 2014 from Van Vihar Zoo in Bhopal.
Moreover, the Delhi zoo has recently acquired five species from Chandigarh's Chhatbir Zoo, including, black and grey partridge, wild boar, jungle cat, Eurasian dove and golden pheasant.
View this post on Instagram
In fact, reports also suggest that the zoo is likely to soon welcome a male rhino from Patna, chinkara and ostrich from Chandigarh, and striped hyena from Jaipur. "In the second phase of the exchange programme with Chandigarh zoo, we plan to get a pair each of ostriches and chinkaras while we will give them a bison and a white buck. The last chinkara at the Delhi zoo died in June last year," Pandey added.
As per reports, the zoo currently has around 88 species, and aims to take that number to 100 by the end of this year.
Related: Have You Seen The Viral Photos Of A Rare Black Tiger Spotted In Odisha?
Written By