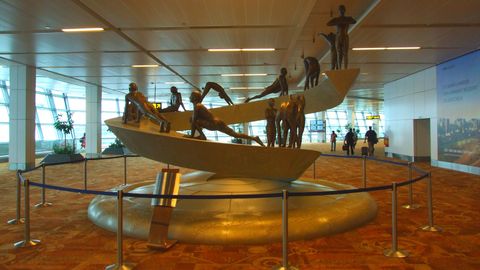 Starting January 19, airspace restrictions have been put in place at the Delhi Airport. These restrictions will be in place for a total of eight days, in lieu of Republic Day celebrations and preparations – from January 19-24, January 26 and January 29. Here's what we know.
The restrictions will be effective from 10:00 am (1000 hours) till 1:15 pm (1315 hours) at the Delhi Airport. The announcement comes just days before Republic Day celebrations in the capital.
More about the airspace restrictions at Delhi Airport According to a Notice to Airmen (NOTAM), non-scheduled flights of scheduled airlines as well as chartered flights, will not be allowed to take off or land at the airport. However, there will be no impact on scheduled flights, reports add.
This is not all – the airspace at the Delhi Airport will also be shut on January 26, Republic Day, from 8:30 am (0830 hours) to 1:00 pm (1300 hours), and from 3:00 pm (1500 hours) to 6:00 pm (1800 hours). No flights will be allowed to take off or land during these time periods. On January 29, the day of the Beating of the Retreat ceremony, no flights will be allowed to land or take off between 3:00 pm (1500 hours) and 7:00 pm (1900 hours), according to the NOTAM issued by the Airports Authority of India (AAI).
Book your flights on Vistara here
Book your flights on MakeMyTrip here
It is important to note that this notice will not apply to IAF, BSF, or Army aviation helicopter operations as well as state-owned aircraft/helicopters, which are flying with the Governor/Chief Minister of a state. Earlier in the month, Air India had issued a notice about the same, adding that it would be cancelling some domestic and international flights in lieu of the airspace restrictions at the Delhi Airport. Air Vistara, too, released a notice listing out the airspace restrictions and advising travellers to take necessary steps.
Hero and Featured Image: Courtesy of Wiki-uk, CC BY-SA 3.0, via Wikimedia Commons
Related: Long Weekend Republic Day Getaways That Are Perfect For The Season
Written By