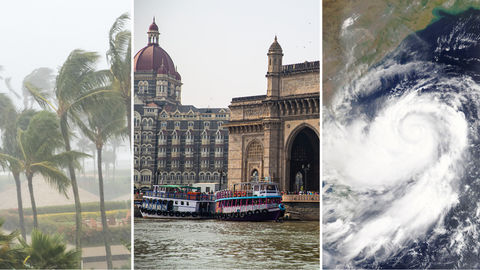 Editor's note: The global COVID-19 crisis has left each one of us deeply affected and we want to help. Burda Media India has organised a fundraising campaign to #FightBackWithTesting and donating RT-PCR test kits to the worst-affected areas in India, which will be secured from our testing partner Mylab Discovery Solutions. You can help these kits reach many more by donating for the cause or by adopting a kit. Click here to join the fight.
Within a fortnight of cyclone Amphan wreaking havoc in Bengal and Odisha, cyclone Nisarga is approaching Mumbai now. In scenarios of natural calamities like this, information plays a crucial part in helping everyone stay well prepared in advance. Here are all the necessary details. By Kumar Shree
While earlier patterns suggested that cyclone Nisagra will hit the port city, the latest declarations by the Indian Meteorological Department (IMD) tells otherwise. Cyclone Nisagra will not land in Mumbai, but it will land close enough to unleash incessant rain and sweeping winds of over 100 km per hour on the city of dreams and nearby areas. It is expected to make landfall on Wednesday, June 03.
View this post on Instagram
The event will also be a historic occurrence as the last time any cyclone made landfall near Mumbai, or Maharashtra was in 1891, about 129 years ago. IMD's Cyclone E-Atlas confirms this information. Parts of North Maharashtra, Mumbai, Palghar, Raigarh, and Thane will embrace the impact of cyclone Nisarga.
IMD director general Mrutyunjay Mohapatra has told PTI that, cyclone Nisarga is likely to have a wind speed ranging between 105 to 115 km per hour.
For your reference, it is noteworthy here that the wind speed on a regular day of summer season ranges between 3 to 7 km per hour. The same on a rather windy day in monsoon can be around 40 km per hour.
View this post on Instagram
Live Tracking Cyclone Nisarga
You can live track cyclone Nisarga by logging on to the IMD website. It has a detailed bulletin with information about cyclones, storms, and wind speed warning, which is updated every hour. You can also check the current status of the cyclonic formations by clicking on the Track of Cyclonic Disturbance option.
Related: Cyclone Amphan: Here's How You Can Help West Bengal Bounce Back
Written By