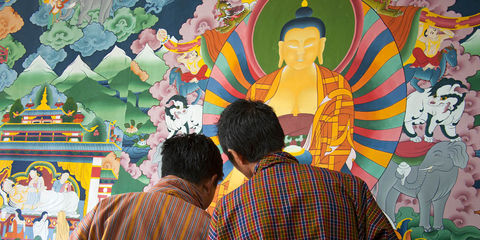 Thangka is a traditional art of painting the life of Buddha on cloth or silk applique. Bhutanese Princess Ashi Kesang Choden T. tells why there is an urgent need to preserve this dying art.
Art conservation is considered a 'western' concept, yet across Asia, devoted and learned patrons of Buddhism have for centuries funded the restoration of cultural heritage through 'offerings of merit' (or what we call zhabten in Bhutan). In Bhutan, our cultural heritage is undoubtedly rich, and stems in large part from our Buddhist history. But the rugged terrain of the Himalayas has never lent itself well to verbal communication, and so it has relied heavily, over the centuries, on murals and pictorial histories for its sustainability. The thangka—a Buddhist scroll painting—is perhaps the best example of this. When one journeyed for days on foot across valleys to villages that spoke almost unintelligible dialects, it was the thangka's nuanced use of symbolism and iconography, coupled with depictions of local historical patrons and artistic techniques to tell 'stories' that allowed travellers to 'read' the profound teachings of Buddhism. Not only is local interest in tangible cultural heritage fast diminishing, but in an age where we have become so attuned to taking our cue and aspirations from more 'developed' societies, so are the skills necessary to preserve our culture in an authentic and sustainable way. Cement, plastic, acrylic, and technology (read flashing fairy lights) are often seen as more cost-effective, less time-consuming, and reflective of 'enlightened' western influence. Used in the name of restoration, these materials do irreparable and irreversible damage to paintings, statues, and sacred architectural sites. What we're left with are gaudy representations that lack spiritual depth. The Druk Foundation for the Preservation of Arts is training Buddhist monks to conserve and restore our cultural heritage using the traditional pigments, tools, and methods. In our society today, monks are the rare few who have retained a deep understanding of the philosophy and stories of Buddhism. These are the stories that would have inspired the great patrons and master craftsmen of the past. To date, they've restored over 400 thangkas. So, if you ask me what we need most in Bhutan, I'll tell you: "More than anything, we need storytellers." [box]Learn Thangka In India: The Norbulingka Institute in Dharamshala, India, conducts workshops on thangka painting and thangka applique ranging from one day to several months[/box]
Written By