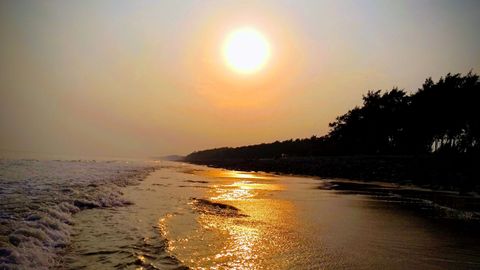 In an attempt to boost tourism in the state, the West Bengal government is planning to launch a new creek cruise in Digha.
The cruise will be modelled around the ones that are currently operational in the Sundarbans, and is expected to be launched around Durga Puja.
Digha creek cruise: Route and timings According to Times of India, the cruise will be about an hour long, and will begin from the Nayakali Temple, around four km from Old Digha. It will then take travellers to Mandarmani via Marine Drive and sail roughly for three to four km inland.
Initially, two daily creek cruise trips are to be introduced and if the response is positive, more will be added. Talking about the cruise, Manas Kumar Mondal, executive officer of the Digha Sankarpur Development Authority (DSDA) said, "We are finalising the details and hope to start the cruise around Durga Puja," writes Times of India.
The report adds that the vessel will have a capacity of 80 passengers. The jetty at the boarding point is under construction, and special events such as parties during festivals and New Year's Eve may also be organised. Additionally, the process of preparing a tender to run the cruise on a public-private partnership is on, as told to TOI by sources.
Digha, a town in West Bengal, has several beautiful beaches and is a popular weekend getaway for travellers from Kolkata and Odisha, who wish to spend some quality time. The creek cruise will be an added tourist attraction for visitors and is expected to draw more footfall.
Hero and featured image credit: Asim Mondal/Unsplash
Related: Delve Into Ayodhya's Rich Past Onboard The New 'Jatayu' Cruise On Saryu River
Written By