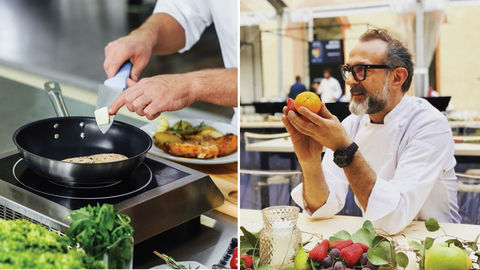 World-famous chefs take on to social media to give online cooking tips, that can help satisfy your cravings amid self-quarantine. By Tanvi Jain
View this post on Instagram
With people struggling to stock up edibles amid lockdown in light of coronavirus, these celebrity chefs are giving online tips that can help you cook delicious food at home even with limited ingredients.
Michelin-starred chef and owner of famous Italian restaurant Francescana Osteria and LA's Gucci Osteria in the Beverly Hills, Massimo Bottura, has launched a Kitchen Quarantine series on Instagram, where he is giving virtual cooking classes to his millions of followers. On this nightly live stream, the chef uses ingredients from his personal fridge to cook dinner and offers tips, guidelines and advice in a Q&A after the show.
During this Q&A, the chef who is not only one of the most famous culinary figures but is also known for his fight to end world hunger, repeatedly highlights the importance of drinking orange juice and urges people to wash hands multiple times.
Via his show, he also presses on the fact that his cooking series is an attempt not just to teach people, but to also remain a part of the world, amid lockdown in Italy. The show live streams on IGTV at 8 pm CET or in the noon in Los Angeles.
View this post on Instagram
Another famous chef Antoni Porowski, who is also a Canadian TV personality and food and wine expert on Netflix series Queer Eye, has switched to Instagram to enlighten cooking enthusiasts with his virtual classes straight from Texas, where he has also self-quarantined.
The post on his personal Instagram account reads, "Quar Eye: Cooking Lessons in Quarantine", where in his pilot episode he describes, "The Keep Calm-lette: an omelette made in isolation is still an omelette."
View this post on Instagram
Moreover, celebrity chef and TV host Rachael Ray shared on her Twitter handle, a collection of 15 meals that could be made only with staples in the pantry, as grocery shelves go empty with people stocking up on essentials. "I know the grocery shelves look bare + your pantry scares you right now, but here's what it is: we're all gonna spend more time at home. Time to focus on who + what we love. Cook with a little more love, lean a little more heavily on your pantry," Ray tweeted.
View this post on Instagram
Similarly, Chef Amanda Freitag shared an Instagram video on her personal handle, giving tips on how to properly sear food, and make even the most basic ingredients delicious. Chef Tom Colicchio tweeted saying, "Ok, if you are not used to cooking for yourself and have questions ask away. For instance. I would cook vegetables now and freeze them for future use."
View this post on Instagram
Furthermore, Bravo's Top Chef host Padma Lakshmi, also posted a video on her twitter handle, suggesting pantry items one can buy instead of hording toilet paper, "A lot of you have asked what type of pantry items to get while you're in self-quarantine. Here are some things you can buy instead of hoarding toilet paper. Remember we're all in this together," she tweeted along with the video.
Related: Beating Self-Quarantine Blues: Take A Virtual Tour Of These Museums Across The World!
Written By