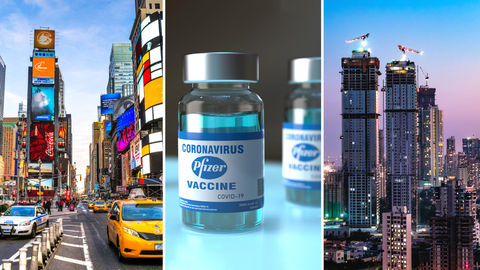 Would you fly from Mumbai to New York for a shot of COVID-19 vaccine? This Indian travel firm is offering a COVID vaccine tourism package. Read on! By Tanvi Jain
View this post on Instagram
Gem Tours & Travels from Mumbai has introduced the concept of vaccine tourism for VVIP customers — those who wish to fly to the United States once the sale of COVID-19 vaccine, Pfizer, starts officially.
Under the Mumbai-New York tour package, which will be booked on a first-come-first-serve basis without any advance or deposit, you will get a three-night and four-day stay with breakfast included and a to-and-from ticket, and a shot of the vaccine, all at INR 1,75,000; excluding GST, visa charges and other taxes.
View this post on Instagram
"Be among the first to get Corona vaccine," a teaser message received by The Times Of India from the travel company read, further adding, "As soon as the Pfizer vaccine is officially published to sell in America (tentative date December 11), we are ready to get done for a select few VVIP clients."
"We are developing vaccine tourism," it stated, also explaining the entire procedure in which the United States is likely to offer the vaccine, i.e., firstly, to healthcare workers; secondly, to those suffering from any sort of health condition; thirdly, to people above 65 years of age; and lastly, for commercial purpose in hospitals.
View this post on Instagram
"We are not holding or procuring any vaccine. Everything we will arrange will be within laws of the US. We will only process your requirements. Right now, no time frame can be committed. We do not collect any advance or deposits now. We just need your registration with us with your name, email, cell, age, any physical complications and passport copy. Rest everything will be done as per official permissions of health department there. Unless they announce official sales to people other than American citizens, we cannot get you the vaccine," the full message mentioned.
Related: COVID-19 Vaccine: It'll Take 8K Boeing 747 To Deliver The Vaccine All Over The World, Says IATA
Written By