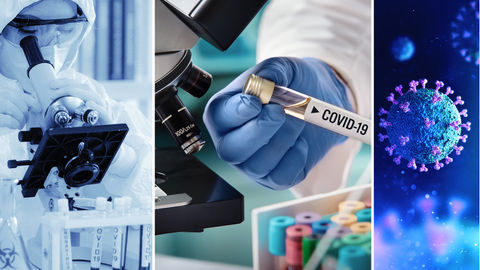 While the world waits with bated breath for a COVID-19 vaccine, we have got some good news to share. A vaccine candidate developed by the Oxford University against the Coronavirus seems to be displaying results in the right direction. Read on to know more. By Amitha Ameen
View this post on Instagram
Test results from an early-stage clinical trial of a COVID-19 vaccine developed by Oxford University showed that the vaccine is safe and even induces an immune reaction within the body, according to a report published on Lancet, a medical journal.
This good news about the COVID-19 vaccine comes at a time when Coronavirus cases across the world are sky-rocketing and all eyes are on the vaccine trials undertaken by different medical groups across countries. After seven months, since the virus was first detected and millions affected, the news of the vaccine has raised a lot of hopes worldwide.
View this post on Instagram
On the Oxford vaccine candidate 'AZD1222' Professor Adrian Hill, Director of the Jenner Institute, Oxford University said, "Now what this vaccine does particularly well is triggered both arms of the immune system in addition to neutralising antibodies, which other vaccines do, we also see a very strong T-cell response," as reported on Times of India.
Good News For India
Indian private vaccine manufacturer Serum Institute has made a deal with Oxford University and its partner, AstraZeneca, the British-Swedish pharma firm and announced that it will seek regulatory approvals for conducting clinical trials in India in a week's time and produce more than 20 millions doses, the current requirement, before 2020 ends, which is the estimated time of vaccine delivery.
"The trials have shown promising results… We will be applying for the licensure trials to the Indian regulator in a week's time. In addition, we will soon start manufacturing the vaccine in large volumes," said Serum Institue of India CEO, Adar Poonawalla (as reported on Times of India).
View this post on Instagram
Meanwhile, human clinical trials have been initiated across the country for India's very first Coronavirus vaccine candidate, Covaxin on July 15, 2020. The indigenous vaccine was developed with Hyderabad based Bharat Biotech in collaboration with the Indian Council of Medical Research (ICMR).
In the first phase, the vaccine will be tested on 375 healthy volunteers between the ages of 18 and 55, showing no COVID-19 history or comorbid conditions. AIIMS Patna was among the 12 sites selected by ICMR for conducting phase 1 and phase 2 of the clinical trials, and the first institute to start the trial on Wednesday.
Since India is one of the largest vaccine producers in the world, scientists are hopeful to develop a viable vaccine within the next few months.
Related: Russia's COVID-19 Vaccine Completes Phase 1 Of Human Trials. Good News For Travellers?
Written By