As coronavirus patients outnumber hospital beds, some of the big hotel chains across the globe offer their properties as temporary care units. By Tanvi Jain
1. Mahindra & Mahindra
View this post on Instagram
Expressing fear over India slowly heading to Stage 3 of coronavirus, Mahindra & Mahindra Chairman, Anand Gopal Mahindra, recently offered his resorts to be turned as temporary care units.
"Going by various reports from epidemiologists, it is highly likely that India is already in Stage 3 of transmission. Cases could rise exponentially with millions of casualties, putting a huge strain on medical infrastructure. A lockdown over the next few weeks will help flatten the curve and moderate the peak pressure on medical care. However, we need to create scores of temporary hospitals and we have a scarcity of ventilators. At Mahindra Holidays, we stand ready to offer our resorts as temporary care facilities," Mahindra tweeted.
Moreover, he also offered to build ventilators and help the Government and the Army to erect temporary care facilities. "We at the Mahindra Group will immediately begin work on how our manufacturing facilities can make ventilators. Our Projects team stands ready to assist the Govt/Army in erecting temporary care facilities," he added.
2. Best Western Great Britain
View this post on Instagram
The group has reportedly offered around 15,000 hotel bedrooms and around 1,000 meeting rooms for the National Health Service (NHS) staff and local authorities.
One of its premier hotels — Ten Hill Palace Hotel — recently tweeted, "We are offering our bedrooms as complimentary accommodation for #NHS staff. It's the least we could do. Thank you for looking after everyone in Edinburgh's hospitals."
The Best Western group also confirmed the same on its official handle saying, "Ten Hill Place Hotel, BW Premier Collection is opening its doors for the coming weeks to hospital workers wishing to stay in comfort close to their place of work."
3. GG Hospitality Group
View this post on Instagram
Former Manchester United and England defender Gary Neville, and former teammate Ryan Giggs, who co-own the Stock Exchange hotel in the city centre and Hotel Football at Old Trafford, as part of the GG Hospitality Group, have opened gates for health workers.
In a video message on Hotel Football's official Twitter and Instagram handles, Neville confirmed that after consulting with the Manchester University NHS Foundation Trust, the duo has decided to allow 176 beds for NHS workers and medical professionals. He also confirmed that the beds will be provided free of cost, and the hotel staff will continue to work normally.
4. The Millennium & Copthorne Hotels at Chelsea FC
View this post on Instagram
The Chelsea FC owner, Roman Abramovich, has offered to pay for the NHS staff working in London hospitals, for their stay at the Millennium hotel on Chelsea's Stamford Bridge stadium site.
Confirming the same, the hotel put up a statement on its official website, saying, "The Millennium Hotel at Chelsea Football Club is working in partnership with Chelsea Football Club and the NHS to provide accommodation for the NHS staff during this critical time."
5. Accor Group The French multinational hospitality company recently announced that it has decided to make its services available to front-line medical staff, to all French people engaged and mobilised in fight against the spread of COVID-19, and to the most vulnerable population. In a statement on its official website, it said, "While the severity of the crisis varies from market to market and hotel to hotel, properties that remain operational are fully committed to serving our guests, government personnel and other authorities that require our services."
The company has also set up The Coronavirus Emergency Desk Accor (CEDA) telephone helpdesk, to centralise the needs and to provide accommodation solutions across France in collaboration with Accor Group's hotel owners and the relevant authorities. It has further allowed all requests to be sent directly to ceda@accor.com.
So far, over 40 of its hotels have offered around 1,000 to 2,000 beds to accommodate homeless people throughout the country. The Group in collaboration with the AP-HP university hospital trust and its partners, has also decided to open this service to all medical staff involved in the fight against COVID-19. This way they'll be able to access accommodation near their place of work via the CEDA platform.
6. OYO Hotels
View this post on Instagram
Ritesh Agarwal founded OYO Hotels has also offered free stay to doctors and nurses in the United States. Lauding the initiative, Ivanka Trump, senior adviser to President Donald Trump, tweeted, "OYO Hotels are offering free stays to our amazing medical professionals and first responders fighting this virus on the frontlines. These kinds of impactful acts of benevolence are what help keep this Nation and our world #TogetherApart."
Responding to her tweet, Agarwal wrote, "Thank you @IvankaTrump. Medical first responders are working tirelessly for us. In these tough times, @oyorooms along with our hotel partners & OYOpreneurs want to do the right thing. We stand #TogetherApart to assist our frontliners against #coronavirus."
Along with the post, she also retweeted a press release by OYO Hotels, that mentioned, "OYO Hotels & Homes is opening the doors to its hotels and offering free stays to doctors, nurses and other medical first responders who are helping in the fight against Coronavirus (COVID-19). Beginning March 24, medical first responders will receive free accommodations at any OYO Hotel in the United States so they can sleep, shower or just get off their feet and recharge."
In the press release, Agarwal was quoted as saying, "All of us at OYO are grateful for the bravery and sacrifices all the medical personnel are making to save lives and stop the spread of COVID-19." Following this, the company's branch in India, also reportedly, reached out to several States' health departments, in order to figure out a way to provide pay per use or self quarantine facilities for travellers at a reasonable price.
7. Four Seasons Hotel
View this post on Instagram
Four Seasons Hotel in Manhattan has offered free rooms to healthcare workers of the New York City. The announcement was made by Governor Andrew Cuomo in a tweet that said, "The Four Seasons Hotel on 57th Street will provide FREE lodging to doctors, nurses & medical personnel currently working to respond to the #COVID19 pandemic. Thank you @FourSeasons. The first of many hotels we hope will make their rooms available."
The hotel that had shutdown operations for general public last week, has also refused to take any reservations till at least April 15. In a statement on its official website, it further mentioned, "We are waiving cancellation fees until April 30, 2020 for any existing and new individual reservations at all Four Seasons Hotels and Resorts worldwide.
8. Indian Hotels Company Limited, Tata Group
View this post on Instagram
Five of the Taj hotels in Maharashtra under Tata Group's Indian Hotel's Company Limited (IHCL), have offered rooms to doctors and nurses working in BMC hospitals. Moreover, two other hotels in Goa and Uttar Pradesh have also opened their doors to serve these corona warriors.
The rooms have been made available at Taj Mahal Palace, Taj Lands End, Taj Santacruz, The President, Ginger MIDC Andheri, Ginger Madgaon and Ginger Noida City Center.
Appreciating the move, Baramati MP Supriya Sule tweeted, "The Tata Group is providing accommodation at the Taj Hotel, Colaba and Taj Lands End, Bandra for Doctors and Nurses working in BMC Hospitals amidst Corona Virus Crisis. Thank you so much Hon. Ratan Tata (@RNTata2000) Ji Tata Group (@TataCompanies) for your generous contributions."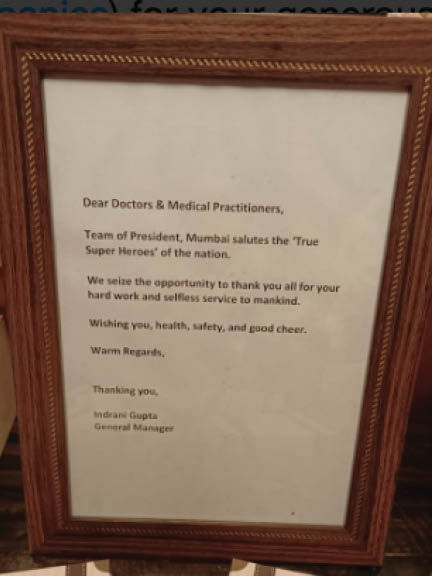 The move garnered praises on the social media after pictures of BMC workers staying at the hotel went viral along with a message put up by President, Mumbai, thanking the selfless efforts of these professionals, and honouring them as 'True Super Heroes'.
9. Hilton
View this post on Instagram
Hilton and American Express in partnership with Hilton's ownership community have recently announced that they will donate one million hotel rooms to frontline medical professionals across the United States of America, free of cost.
"We've partnered with @AmericanExpress to donate up to one million room nights so the healthcare heroes keeping us safe can have a comfortable place to stay between shifts and protect their families back home. #HotelsForHeroes " the hotel ms.spr.ly/6010TeoIy,tweeted.
As of now, Hilton is working with 10 associations who collectively represent over one million healthcare workers to provide access to the program. The stays will be covered starting April 13 to May 31.
The rooms will be offered by Hilton brands such as Hampton by Hilton, Hilton Garden Inn, DoubleTree by Hilton, etc.; including specially trained team members, and updated cleaning protocols for common areas.
Other hotels that are reportedly working on giving their hotel rooms to vulnerable groups at high risk of contracting the virus, include Holiday Inn, Travelodge and Whitbread's Premier Inn chain. Moreover, two luxury cruise ships at Tilbury dock in Thames have also been given to the government to be used as floating hospitals, and as accommodation for NHS staff.
Furthermore, the US Army Corps of Engineers has confirmed that it's working on converting over 10,000 hotel rooms and college dorms, in New York City into medical care units.
Related: Here's A Round Up Of What Major Hotels Are Doing Globally To Fight The Pandemic