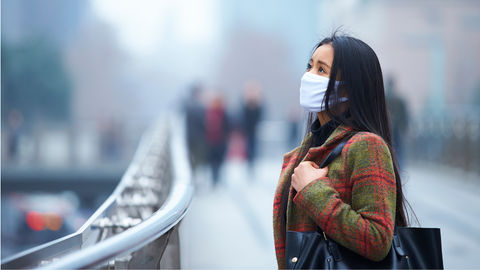 A deadly disease named Coronavirus has spread all over China, and shows no sign of stopping any time soon. Here is a quick explainer on what it means for China-bound tourists. By Bayar Jain
Similar to the Severe Acute Respiratory Syndrome (SARS), a respiratory disease that broke out in 2002 in Hongkong and Mainland China, the Coronavirus has been detected in the country, causing widespread alarm. Currently 139 new cases have been reported in Beijing and Shenzhen alone. Moreover, three deaths have been reported in Wuhan. These incidents, however, are not constrained by China's borders. Thailand, South Korea, and Japan have also reported cases of outbreak.
The What And How Of Coronavirus
The Novel Coronavirus (2019-nCoV) is a family of viruses that is believed to have originated from animals. On first analysis, a link between Wuhan's Huanan Seafood Wholesale Market and the spread of the virus was suspected. However, newer cases have not had any exposure to the market. A possible cause for this, however, could be attributed to the fact that the market has been closed for disinfection.
Symptoms for this virus are wide-ranging. The infections could range from anything between common cold to SARS. Fever, cough, and respiratory difficulties are some of the many symptoms that could arise as a result of the virus. In severe cases, it could even lead to pneumonia, kidney failure and death. The comforting factor, however, is that the virus cannot be transmitted through people. Having said that, one must also keep in mind that a clear mode of transmission has not been identified yet.
Travel Advisory
Unfortunately, the outbreak comes ahead of the Chinese Lunar New Year – a typically bustling tourist season for the Asian nation. Wuhan, the epicentre of the outbreak, doubles as the major transport hub at this time. January 24 to 30, the main holiday season, could see a surge of tourists travelling to and fro from Wuhan, thereby increasing the threat of more cases. As a result of this premonition, the World Health Organisation (WHO) has recommended a restriction of any trade and travel in the region.
India's Ministry of Health and Family Welfare, too, has issued a travel advisory for China-bound travellers. The advisory states that tourists should maintain good personal hygiene, frequently wash hands with soap, wear a mask if unwell, and even follow respiratory etiquette such as covering your mouth while coughing or sneezing. Close contact with people who are unwell, and live animals should also be avoided. One should also steer clear from consuming raw or under-cooked meats, and travelling to farms and slaughterhouses.
For an added layer of precaution, passengers travelling from China to Mumbai's Chhatrapati Shivaji Maharaj International Airport (CSMIA), will have to undergo a thermal screening. Moreover, the airports in New York, Los Angeles and San Francisco have begun screening passengers from Wuhan, whereas Singapore and Hong Kong have announced similar precautions.
Related: Hong Kong, China And Macau Are Now Connected By Road, Thanks To the World's Longest Sea Bridge
Written By