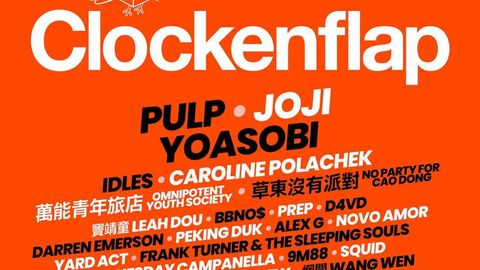 After Joji revealed that he would be joining the Clockenflap 2023 lineup last month as part of his Pandemonium world tour, we now get the first lineup drop from the festival organisers.
Clockenflap Music & Arts Festival is one of Hong Kong's most highly-anticipated outdoor events. Every year, the international music festival brings in over 100 musical acts across a vast range of different genres. The festival returned with a bang last year with a monster lineup featuring the likes of Artic Monkeys, Wu-Tang Clan, The Cardigans, Phoenix, and FKJ. Organisers also make sure to leave room for both established and rising local acts to shine.
All you need to know about Clockenflap 2023
View this post on Instagram
Building off the momentum, this year's annual showcase will run from December 1 to 3 with J-pop superduo Yoasobi and British pop legends PULP headlining on Friday and Saturday respectively. Joji is set to deliver his heartbreak anthems on Sunday to close out the show.
Other highlights announced so far include standout Taiwanese indie band No Party for Caodong, breakout "Romantic Homicide" singer d4vd, U.K. post-punk rock band IDLES, Canadian rapper bbno$, and Chinese singer/rapper Lexie Liu.
Tickets for Clockenflap 2023, taking place on Central Harbourfront, are now available online. Stay tuned for more artists to be announced in the coming months.
[Image Credit: Clockenflap]
This story first appeared here
Related: 10 Movies Set In Hong Kong That Showcase The Charm Of The City
Written By