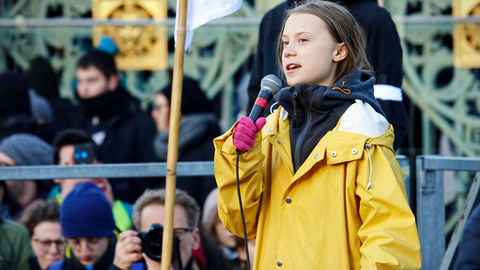 Teen climate activist Greta Thunberg donates inaugural Gulbenkian Prize for Humanity money, worth one million euros, to projects working towards combating the climate crisis. By Tanvi Jain
View this post on Instagram
Environmental activist Greta Thunberg and the founder of School Strike for Climate, who was recently awarded the inaugural Gulbenkian Prize for Humanity, donated the entire prize money of one million euros to charitable projects working towards combating climate and ecological crisis.
"I'm extremely honoured to receive the Gulbenkian Prize for Humanity! We're in a climate emergency, and my foundation will as quickly as possible donate all the prize money of one million Euros to support organisations and projects that are fighting for a sustainable world, defending nature and supporting people already facing the worst impacts of the climate- and ecological crisis — particularly those living in the Global South. Starting with giving €100.000 to the SOS Amazonia Campaign led by @FridaysForFutureBrasil to tackle COVID-19 in the Amazon, and €100.000 to the Stop Ecocide Foundation (@ecocidelaw) to support their work to make ecocide an international crime," she wrote on her Instagram handle along with a video announcing the donation.
View this post on Instagram
The 17-year-old activist was described by the judges as 'one of the most remarkable figures of our days' and was lauded for her struggles. Earlier in 2019, she was also felicitated with the Time Magazine's 'Person of the Year' award and had already been nominated for the Nobel Peace Prize award twice. She had also won Amnesty International's top human rights award and the Swedish Right Livelihood Award.
She along with three other climate activists even appealed to the European Union leaders in an open letter signed by 150 scientists and many celebrities, to face up to the climate emergency.
View this post on Instagram
Thunberg started campaigning at the age of 15, back in 2018, when she won a climate change essay competition in a local newspaper. During her protests in front of the Swedish parliament, she held a sign that read 'School Strike for Climate'. She even missed her classes to go for the protests, and by the end of 2018, she was joined by thousands across Australia, UK, Belgium, US and Japan. Later in 2019, she took a whole year off school to attend conferences and participate in student protests. It was her speech at a UN Climate Conference in New York that year, which sparked outrage and made her the talk of the town. Refusing to fly for the sake of the climate, she travelled to New York via a yacht in a time period of two weeks. Apart from her UN speech, she also spoke at this year's World Economic Forum in Davos.
Related: At 16, Activist Greta Thunberg Blasts World Leaders Over Climate Change
Written By