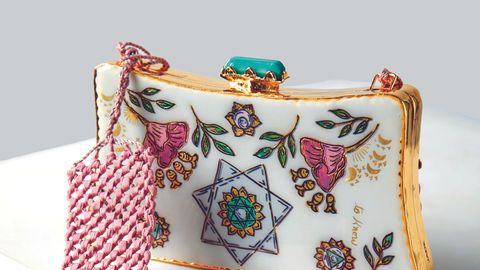 Looking for something memorable yet sustainable as return gifts? Check out these wedding favours that your eco-friendly bridal entourage is sure to treasure for years. By Arpita Kala
A joyous remembrance and token of affection —a wedding favour is the perfect way to show your bridal party that they are always on your mind. Sustainable weddings are all about creativity, conscious about its ecological impact and your gifts to your bridal entourage should be no exception.
"The pandemic has definitely changed the scale of Indian weddings from being a big fat affair to something more intimate and personal. We believe this shift from excess to intimate will continue as couples value being surrounded by people closest to them even more now than before. The small celebrations bring in a truly encapsulating experience and make every moment extra special with personalised gifting and curating an experience that the bride and groom will remember for years to come," say Krisha Seth and Yamini Gandhi, co-founders of Dots & Doodles.
So, how can you pick the perfect wedding favour for your group of loved ones? Well, you won't have to look far.
"In many ways, being sustainable is more about being smart and savvy with what you have rather than going above and beyond to source something that's not easily accessible. Some key elements of a sustainable wedding are the location of the wedding, ensembles that are versatile and can be worn in different ways, locally sourced materials and ingredients, sensitivity towards the environment. These are just some of the factors," says designer and upcyling savant Monica Shah, co-founder of JADE by Monica and Karishma. With those inspirational words in mind, here are some picks of locally-sourced, creative yet thoughtful wedding favours that your loved ones would truly appreciate:
Shades of love Sunny marigolds, scarlet roses and other such glorious temple flowers are the mainstay of every Indian wedding. You can put these wedding blooms to good use by using them to dye fabric and utilise them as wedding favours. Many local artisans such as Adiv Pure Nature, MATR and several others specialise in creating gorgeous natural dyes using wedding flowers.
Made to order Personalised wedding favours can be a great way to thank your loved ones for being a part of your D-day. "The personalised stationery hampers are our favourites. This is because the personalisation adds a lot of value, letting guests know that their presence was immensely loved. Whether it is a book, stationery or candles, each item makes for a unique addition that reminds you of a thoughtful gift you received and the memorable times spent together," say Krisha Seth and Yamini Gandhi.
While paper is the most commonly recycled material, try to find eco-friendly brands that source their paper from FSC-certified paper suppliers who work with forests that comply with the highest social and environmental standards.
Upcycled accents Just like personalised hampers, wedding favours made from upcycled fabrics make for great meaningful presents. From scarves to potlis, handbags and even monogrammed handkerchiefs, many organisations create a plethora of wedding favours by re-using resources.
"Upcycled or vegan accessories are probably one memorable way to go sustainable with wedding favours. For instance, at JADE Accessories, we have created belts using upcycled fabrics and purses using vegan materials," says designer Monica Shah.
Aromatic appeal Pretty candles in reusable glass containers make for delicious-smelling gifts. Brands such as Yeast India Company, Craftslane, Byredo, SOS Organics, and many more brew gorgeous scented concoctions that are sure to be quite a sustainable treat for your wedding guests.
Counting on thought
Happiness increases when you share your joy with others. You can do just that by opting out of wedding gifts and favours, and by encouraging your guests to do the same.
"Planning a 'green wedding' isn't as hard as most people imagine. The greatest gift is that of giving to others. Now, many couples are requesting guests to opt out of sending them expensive gifts and alternatively make a donation for a kinder cause. I truly think this trend is here to stay, and for a good reason," says Dhruvi Doshi of Dhruvi Doshi Designs.
Related: Bookmark This: An Expert's Guide On Choosing The Right Wedding Cake
Written By