Founder of The Business of Fashion, Imran Amed, tells us what makes the Maldives such a huge draw among celebrities, and how one resort is standing out. By Imran Amed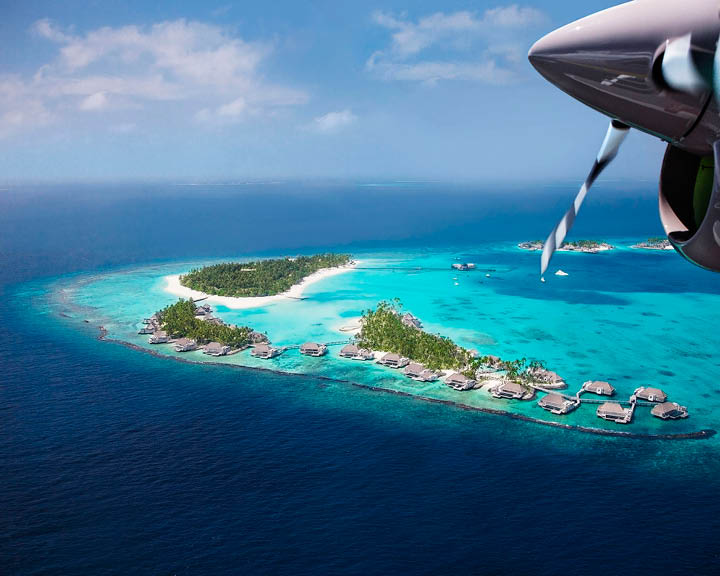 I had dreamed of landing at the Velana International Airport in the Maldives archipelago for as long as I can remember. But I was also well aware that, sometimes, these dreams simply don't match up to reality. Rather, reality just doesn't live up to the dream. So when, after almost 20 hours of flying, my Maldivian reality was about to come into sharp focus, I braced myself for disappointment.
After all, so many of the Bollywood elite class—not to mention the rest of the world's rich and famous—have come to the Maldives ever since the first luxury resorts opened here back in the mid-1990s. Among the pioneering resort developers were Sonu Shivdasani and his wife Eva Malmström, whose Robinson Crusoe-style Soneva Fushi combines a rustic luxury experience, built for social interaction, with all of the services and conveniences of a full-service luxury hotel, while the principles of sustainable tourism stay at the forefront. In the early years of the archipelago's tourism, it was this kind of down-to-earth escapade that defined the Maldivian dream.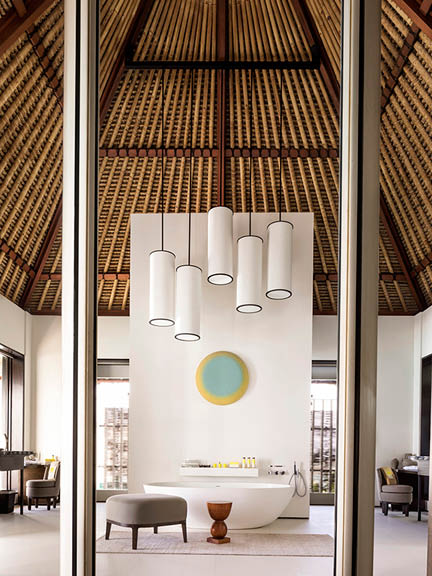 From there, the tourism industry grew rapidly. There are over 100 hotels and resorts on the archipelago today. Before the dawn of tourism, the Maldives used to be among the world's poorest economies, dependent primarily on fishing and small-scale exports. By 2017, the country was welcoming over one million tourists per year, and tourism accounted for more than 25 per cent of its GDP.
But with such growth usually comes a decline in quality—and a change in guest profile. Big global hospitality brands, including Four Seasons, Waldorf Astoria, and JW Marriott, are now scattered all over the archipelago, as are high-end resort brands like Six Senses, COMO Hotels & Resorts, and One&Only. Even the trendy Standard Hotels group is making an appearance, having re-imagined a property on Huruvalhi Island in Raa Atoll.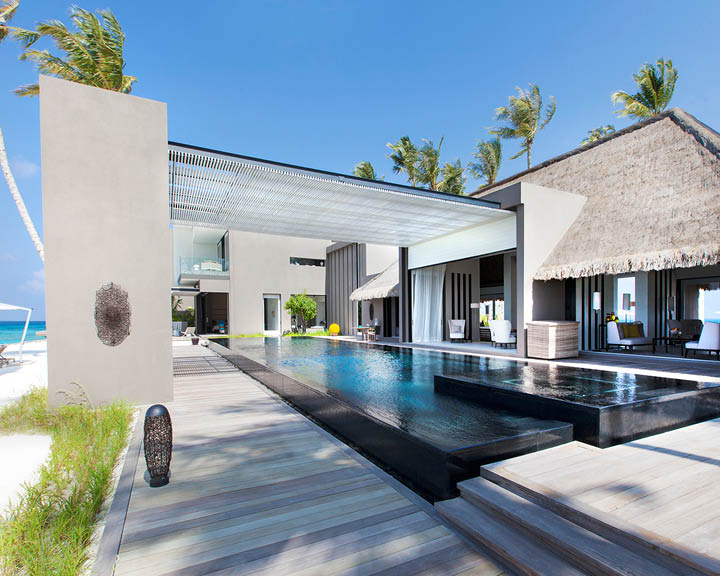 But I feel there is nothing in the Maldives that quite compares to the unabashed, yet utterly discreet, luxury of the Cheval Blanc Randheli in Noonu Atoll. Designed by Jean- Michel Gathy, the resort takes the concept of luxury to a whole other level and has quickly become the pinnacle of hospitality, with the most expensive rooms in the archipelago.
There is the sprawling resort itself, built from scratch, as well as four man-made islands that were created to complement the natural island of Randheli. Unlike other resorts in the Maldives, you can go for hours here without seeing another guest, let alone having to engage in chit-chats. This isolation is by design. While there is an opportunity for social interaction if one so desires, this is not really a see-and-be-seen kind of place. The resort was built for privacy and discretion, not for social media hits, unlike many of its peers.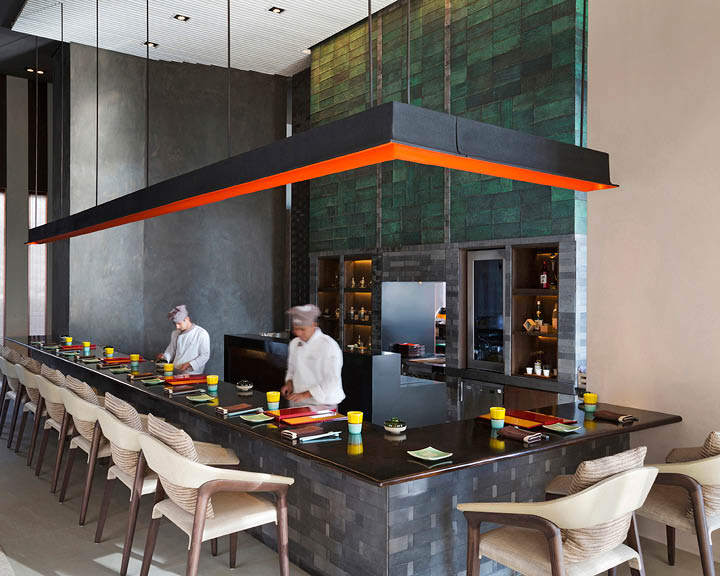 The 45 expansive villas, with private gardens, 12-metre lap pools, and beaches, are so spacious and comfortable that you don't even need to step out all day if you don't wish to. Everything you need is available within the villa, including meals, private yoga sessions, and endless home entertainment options. For those seeking an absolute escape from society, this is the ultimate opportunity to disconnect and unwind. Then there is the sprawling four-bedroom villa on its own one-hectare private island, where global celebrities, royalty, and billionaires take refuge from intrusive phone cameras and prying eyes.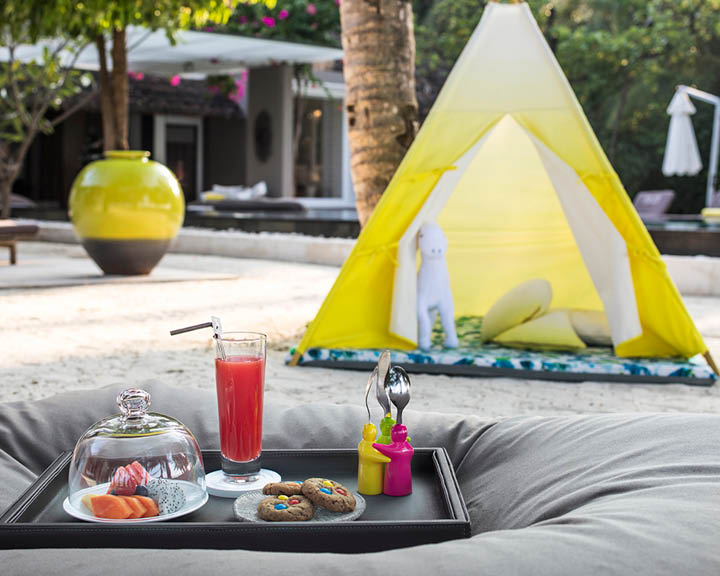 The dining options at the resort range from ultra-gourmet to down-to-earth comfort food. Thus, there is always something for everyone. Across four dining destinations, from the French restaurant Le 1947, to seafood and Italian fare at the Deelani restaurant, to Tokyo-grade teppanyaki at Le Diptyque, and the perfect spicy margarita and home-cooked Indian fare at the poolside restaurant, The White, all bases are covered.
But what is most memorable about the resort is its service. Cheval Blanc somewhat cutely calls all of its employees on-site ambassadeurs of the brand's ethos, first honed at the famous Cheval Blanc in Courchevel that opened in 2006. In addition to a healthy contingent of local staff, the ambassadeurs come from all over the world—a gym trainer from Portugal, a chef from France, a massage therapist from India—all equally passionate about hospitality. In the end, it is personal care and attention that sets Cheval Blanc Randheli apart. And while its ultra-luxe atmosphere may not be for everyone, particularly those in search of a more raucous party atmosphere, it's worth a try for those who can afford the sky-high prices.
Related: This Ferry Will Soon Ship You From India To The Maldives In No Time