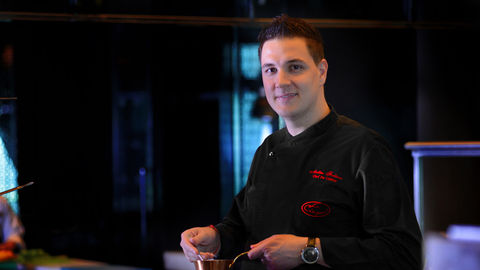 Two years ago, Chef Matteo Fontana arrived in India to take command as the chef de cuisine of Le Cirque at The Leela Palace New Delhi. But little did he know that he'd fall in love with more than just the food of the country! Here, he talks about how he is striking Indian destinations off his bucket list, while being busy cooking up magic for the epicurean clan of the capital. By Sushmita Srivastav What prompted you to come to India?
Share your story with us. I have been working with Le Cirque and the Circo family since 2014 when I launched the Circo Abu Dhabi. When I decided to finally move after three years, I got an offer to move to India, and take care of Le Cirque at The Leela Palace New Delhi. With this, I was also given the role of corporate chef for Le Cirque Signature restaurants at The Leela Mumbai and The Leela Palace Bengaluru. That's when my tryst with India began.
What were your impressions about India when you first landed here? When I first landed in Delhi, I was surprised to see the kind of traffic the city has. The number of cars on the road just amazed me!
Tell us about your journey in India. Also, the most memorable experience here?
My time in India has been great so far. I have seen beautiful places in and around the country. I have met humble people, made great friends, and tried some authentic food. I have countless memories of travelling in these two years, but if I need to choose one experience I'd always remember, it has to be the time my parents flew from Italy, and we took this amazing trip to Rajasthan, and the Taj Mahal.
Any favourite destinations? As a city, I like Mumbai. I find it very vibrant, and just love its buzzing night life. I feel people there are more relaxed, and enjoy their life more than the Delhi folks. Udaipur is another great place to travel, and staying at The Leela Udaipur was a magical experience.
How does travel inspire your work?
Well, travel inspires a great deal. I love travelling, and always make sure to eat from the local markets and traditional joints wherever I go, as it helps me experience the true flavour of the city. I also try finding a fine dining interpretation of the local cuisine that I have tasted.
What's next on your Indian travel bucket list? I will be travelling to Amritsar to see the Golden Temple in October, and Kerala in December. Very excited!
Five essentials you don't travel without?
My wife (just love travelling with her), my Ipad, a guide of the place, my camera, and a book to read.
Advice to foreign travellers visiting India?
I'd suggest taking at least three weeks to do a proper tour of India. Delhi, Taj Mahal in Agra, Jaipur, Udaipur, Mumbai, Bengaluru, and Kerala are must-visits. If you can manage some more time, make sure to visit Shimla and the Himalayas.
Related: Diners Are Digging Le Cirque's Bite Size Menu For All The Right Reasons!
Written By