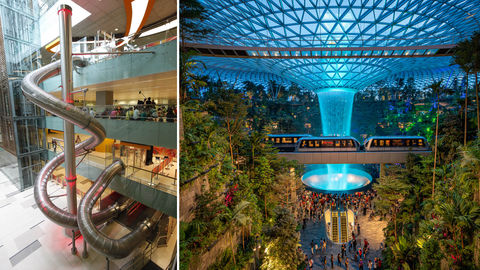 The Changi Airport in Singapore has often been called one of the best airports in the world, and it's not intending on resting its laurels any time soon. Already home to a massive waterfall, swimming pool, and a movie theatre, they have recently added a slide to their impressive list! By Bayar Jain
Movie-chase sequences across the airport are a common sight, but imagine if the romantic could be seen sliding down to their loved one at the boarding gate? As bizarre as it may sound, it is a possibility at the already beautifully insane Changi Airport, Singapore.
A man named Yusuf El Askary recently filmed a video of himself riding down a spiraling slide to reach his boarding gate. Available at Terminal 4, the slide can be accessed by scanning your boarding pass at the entry points. On reaching the bottom of the slide, he lands in front of 'the red chandelier' – Changi's giant playground with climbing nets and sliding poles. Interestingly, Askary didn't even try out the biggest slide at the airport. The slide at Terminal 3 is 39-feet high and can transport you from Level 1 to Basement 3!
However, there is one small catch. To use the slides, one must spend at least $10 at a restaurant or retail shop within the airport. Essentially, this could even mean spending on something as small as a bag of nuts.
Currently, Changi Airport already has entertainment corners, a hedge maze, a rain vortex, waterfalls, and innumerable sculptures and art installations. The addition of a slide merely reinforces their 'best airport' tag!
Related : Singapore Jewel Changi Airport Is All Set To Change The Way You Look At Layovers!
Written By