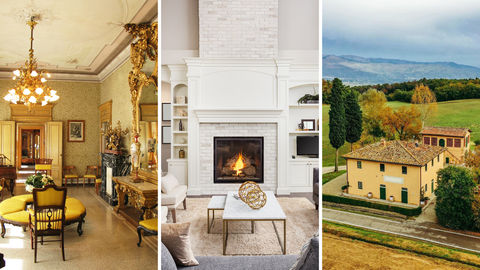 Stalking gorgeous celebrity homes online? Well, we've all been guilty of that at some point, haven't we? But, imagine if you could actually see the houses in person? Or, even better, actually experience living in them for a couple of days during your next vacation? No, this is not utopia. Don't believe us? Looking at these celebrity homes that are open to bookings will make you want to take leave right away! By Shubhanjana Das
1. Jim Morrison Living and breathing in the house of one of the most prominent pop culture icons of all times makes for a holiday not everyone can think of or plan out. Located on Love Street in L.A. this late rock n roll legend's Laurel Canyon was recently renovated and can be booked for outdoor showers and villa extravagance at a price of $895 per night.
2. Frank Sinatra Okay, musicians' pads can be trusted to be peaceful, artistic, and inspiring. That's why we have our eyes on Frank Sinatra's abode in Palm Springs, which makes you want to brave the high temperatures for the sheer indulgence that living in this mid-century house offers. But, not without a price. The place can be booked for $2,600 a night.
3. John Steinbeck Okay, so you're not a person who rejoices basking in opulence and luxury. We hear you. What if we told you writer and traveller John Steinbeck's one-room cottage can be booked as well? This peaceful cottage in Pacific Grove, California is a writer's abode for it is soaked in tranquillity. The tariff is fixed at $180 a night.
4. Denzel Washington Denzel Washington, Jimmy Page, and Jan Michael Vincent have all called this eight-acre property in Malibu their home. Miles of private beach and 180 degree view of the Pacific ocean from a three-bedroom home – all come for $382 a night.
5. Sting Il Palagio is home to Sting and his wife Trudy Styler. Given that their home is a 16th-century Italian villa in south of Florence, it is safe to say that the couple sure has a fine, fine taste. While Sting and Styler still own this house and call it their summer estate (although we think it's no short of a small-scale palace), they rent it out during selective times in the year. You can have tennis courts, swimming pools, and the greenest of grounds and panoramic views to yourself in this Italian haven. Price is available on request.
6. Harry Houdini Houdini applied his magic skills to his Hollywood Hills abode and made it into what it looks in the present date – something straight out of a wallpaper. This three-bedroom 'escape' (as it was for Houdini) has a natural mineral spring with a three-foot waterfall the backyard, all the barbecue tools, hiking trails that last for a good hour. Prices are approximately $1437 per night.
Related: Where Does Your Favourite Celebrity Like To Travel?
Written By