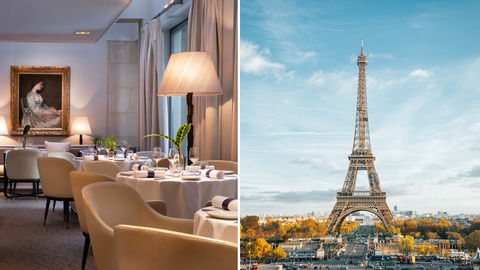 Back in the day, Le Dôme Café in Montparnasse and Café de Flore used to be the celebrity hotspots, wherein it was commonplace to catch your favourite Hollywood stars whining and dining. Paris' magic has cast a spell on everyone and even the celebrities haven't been spared. The city's crème de la crème hangs out in the best restaurants, where the Michelin stars meet the celebrity stars. Check these celebrity-approved restaurants in Paris for a slice of Hollywood in the heart of France. By Shubhanjana Das
The remarkable Le Restaurant de Sers at the opulent Hotel De Sers is an official address for the who's who attending monumental events like the Paris Fashion Week and the French Open. It has also been hosts to the likes of Lady Gaga, Justin Bieber, and Kelly Rowland. Saying that the grendeur at Le Restaurant de Sers is hard to get over would be an understatement. The place is fit for kings, let alone Hollywood stars. The celebrity appeal of this place is tucked into every corner and also put on a pompous display. With its quaint charm, private courtyards, and the garden terrace, it's no surprise that people go gaga over this place.
Another parisian icon nestled in the corner of the Avenue Montaigne and Rue François 1er, L'Avenue is where classic French delicacies, and gourmet cocktails are served with celebrity sightings at its breathtaking terrace. While French honchos like Catherine Deneuve or Jean-Paul Gaultier frequent the place, Jay-Z, Rihanna, Lana del Ray, and Denzel Washington can't seem to get enough of it either.
On the corner of Avenue George V and Champs Elysees lies Le Fouquet's, a part of the iconic Hotel Barriere overlooking Champs Elysees. Le Fouquet's has been an iconic Parisian symbol of elegance and high-scale French fine-dining with the best wines on their racks. Ever since 1899, Fouquet's has hosted the who's who of Paris apart from being a favourite of Bruce Willis and Liza Minnelli. Since 1979, Le Fouquet's has hosted the gala dinner of the César Prize, the most celebrated in French cinema.
Before visiting Davé, make sure you are not taking any chance or relying on this place for you day-end meal. Do check whether it's Fashion-Week time, or any other high-profile, celebratory week for that matter. This is to say that Davé has a cult status in hosting big names and while a visit here is enthralling, it can also be intimidating. It's old-Hollywood charm places a slice of Hollywood right in the heart of Paris. And we can assume if it's good enough for the likes of Alexander McQueen, Leonardo Di Caprio, Cindy Crawford, Mick Jagger, and even the late David Bowie, then it's good for you.
Related: Here's How You Should Spend 48 Magical Hours In Paris!
Written By