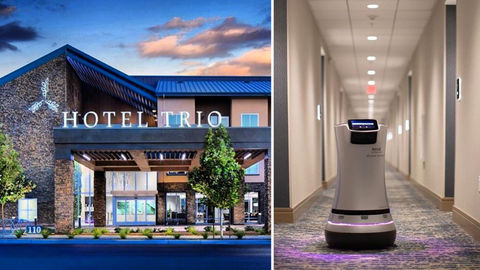 Hotel Trio in Healdsburg, California has a new butler to deliver wine straight to your room. And, it's not just your regular human butler, but a cute robot named Rosé. By Tanvi Jain
View this post on Instagram
As hotels have started to reopen across the globe with advanced hygiene and safety measures to once again welcome guests, many are coming up with unique ways to ensure social distancing is maintained between the staff and the guests. Going by the same protocol, Hotel Trio in Healdsburg, California has introduced a tiny robot named Rosé for in-room wine delivery.
The robot can easily enter the lift, search for the room, and make the delivery with a digital message saying, "I'm on a guest delivery." And not just wine, it also delivers snacks, towels, toiletries, and almost anything the guests need.
View this post on Instagram
Located just a drive away from the famous wineries of the Sonoma Country, Healdsburg often attracts wine lovers from different parts of the world. However, COVID-19 lockdown has forced them to cancel all their travel plans. But as the world is gradually opening up again to resume tourism, the hospitality industry has also pulled up its socks and is taking every precautionary measure to welcome back guests in a safe and healthy environment.
Northern California however, is not new to such social distancing measures. Even the Casa Madrona Hotel in Sausalito uses drones to deliver wines straight to the room window.
View this post on Instagram
From safety programmes to advanced cleaning methods to room deliveries, all the hotels are doing something or the other to ensure their guests don't feel unsafe in the post-Corona phase. Similarly, restaurants have rearranged their seating to comply with social distancing norms, and have also made all menus and payments digital. Similarly, all the tourist hotspots have put a cap on the strength of visitors at a time, and have started accepting only online bookings so as to avoid the queue at ticket counters. Moreover, even the aviation sector has amped up its safety measures, to ensure in-flight social distancing, hygiene and more.
Related: Summer Retreat 101: The Most Luxurious Summer Villas in California
Written By