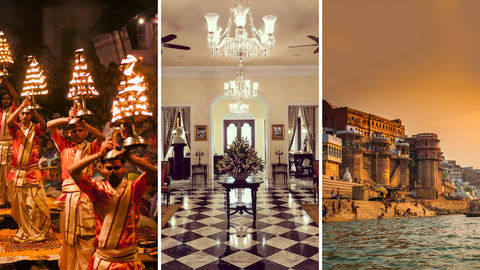 Why are boutique hotels better than your generic hotels? Well, besides the fifty other reasons and ways in which they make you feel at home, away from home, they also give you the access to the local life of any place you visit. As far as Varanasi is concerned, it's high time we see it from a non-touristy lens, like a local. These boutique hotels and homestays in Varanasi are making it possible for visitors to see the real Varanasi, in its actual colours. By Shubhanjana Das
A boutique hotel located just off the much celebrated Assi Ghat, Via Varanasi incorporates the culture and art of Varanasi by attentively adding details, which make the experience of staying and exploring Varanasi unique for every guest. They have a one-floor-one-suite policy and designate one attendant and chef to every suite to take care of the guests with utmost attention. The Cafe Cafe by the ghat is the perfect place to meet other visitors from all over the world and look over at the life of the city while enjoying your cuppa.
What's better than experiencing the spirituality that Varanasi embodies while staying at one of the best and most comfortable luxury homestays in Varanasi? Granny's Inn is run by two extremely passionate and welcoming women who spoil their guests with all the comfort and amenities they may need during their search for spirituality and peace. Home-cooked food served with generous amounts of love is the perfect reason why you should book one of the seven beautifully decorated rooms at Granny's Inn.
A true experience of Varanasi and everything that epitomises its essence cannot be complete without you being able to wake up to the majestic view of the Ganges, the river that is the life of Varanasi. Ever since 1835, Nadesar Palace has been the host to royalty, inviting guests to its lush marigold plantations, mango orchards, artistically decorated rooms, and basically an overall wholesome experience. This boutique hotel has a very quaint vibe to it, that of the days gone by and seems to lock in time, just like Varanasi itself.
Built by the royal family of Nepal, Suryauday Haveli wastes no time in establishing the royal treatment that will be meted out to its guests throughout their stay. Located just off the Shivala Ghats, book yourself the suite that faces the river and wakes up to the crimson light adorning the trembling water while the city wakes up with a dip in the Holy River. Rustic interiors, old-school energy, planned boat rides, along with an exquisite menu — we can't find one reason why this won't be the perfect boutique hotel in Varanasi for an experience unlike ordinary.
Related: A Poetic Journey To Varanasi with the Mahindra Kabira Festival
Written By