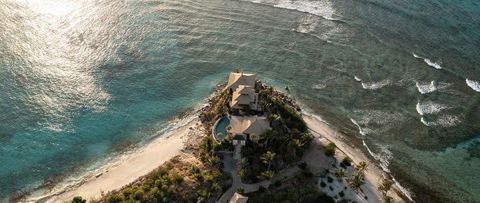 Frequented by celebrities and elites not afraid to buy out the whole place, this season, Richard Branson's Necker Island is now offering individual rooms for the first time ever.
A private island tucked away in the Caribbeans, Necker Island is owned by British business mogul Richard Branson, and is a dream destination for many. After all, the gorgeous beaches surrounded by deep blue waters, along with the whole island being totally exclusive, are a lap of luxury to reward ourselves as we break away from daily routines.
Richard Branson's Necker Island opens for individual room bookings for the first time ever
Normally, the island is reserved as a retreat for those who are willing to buy out the whole island, or if you're invited by Richard Branson himself. Now, an unprecedented piece of news has arrived: for this holiday season, the island is offering individual rooms for those who want to spend the festive season there even without having the budget of a tech billionaire.
Part of Richard Branson's Virgin Limited Edition resort collection, Necker Island offers a whole experience, not just a simple stay. At the time of writing, rates start at USD 5,850 (approx. INR 4,87,069). This price tag includes the accommodation, along with all meals and drinks during your stay, return boat transfers, water sports, and activities for children.
Even the most entry-level room type, the Great House Room, boasts spectacular sea views with its own large private balcony. Necker Island also only offers 24 rooms total, so the exclusivity is still fully intact. The island is 74 acres in size, after all, so you can certainly stay away from other guests if you want to.
Whether you're looking for something more low-key or lively activities, there is bound to be something that fits your style. Go kayaking with your partner, spend the day kitesurfing, or grab a glass of bubbly and crack open your favourite book by the pool. There's even a guided wildlife interaction tour you can take with your little ones.
You can find more information at Necker Island.
(Hero and featured image credit: Necker Island)
This story first appeared here
Related: Richard Branson Just Unveiled 2 Wildly Over-The-Top Villas On His Newest Private Island
Written By