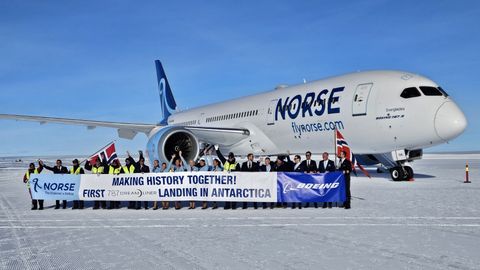 In a groundbreaking achievement, Norse Atlantic Airways executed the historic landing of a Boeing 787 Dreamliner, named Everglades, on Antarctica's Blue Ice Runway.
The tally of peculiar airports around the globe is extensive, featuring runways as long as 61 football fields, those housing luxury golf courses, and even one with a railway line cutting through it. Adding to this list is Antarctica's Blue Ice Runway: spanning 3000 metres in length and 60 metres in width, this icy airstrip is meticulously sculpted from compacted snow and ice.
The Dreamliner, the largest aircraft to touch Antarctica's Troll Airfield, can carry up to 330 passengers, depending on the model. On November 15, the iconic landing was registered just after 2 am, bathed in the broad sunlight of the southern hemisphere's summer.
Frozen skies, limitless horizons: Boeing 787 Dreamliner soars in Antarctica with passengers and payload
Flight No787 did not follow a regular passenger route; instead, it transported a crew of 45 passengers, including scientists from the Norwegian Polar Institute. The contracted flight destined for the Troll research station in Queen Maud Land, Antarctica, also carried 12 tonnes of equipment for the research stations at the destination base.
Largest aircraft ever to land on #TrollAirfield!
"This demonstrates our capability of performing more effective flight operations to #Antarctica by carrying a larger scientific/logistics crew, more cargo with a smaller environmental footprint", says NPI-director, Camilla Brekke, pic.twitter.com/7vjsSw0gPI

— Norsk Polarinstitutt // Norwegian Polar Institute (@NorskPolar) November 16, 2023
Departing from Oslo on November 13, with a layover in Cape Town, the flight then headed southwards to Antarctica, culminating in the celebrated landing on Wednesday, November 15. This historic achievement also marks the Boeing 787's successful operation of flights to every continent in the world.
Armed with a 3000-metre-long blue ice runway, the Troll Airfield serves as a crucial link between Antarctica and the world. It also serves as the base for the Dronning Maud Land Air Network Project (DROMLAN). Eleven nations, including Japan, India, Germany, Finland, Norway, Belgium, Sweden, the United Kingdom, South Africa, Netherlands, and Russia, collectively contribute logistical resources to the project. Before the Boeing 787 Dreamliner, an Airbus A340 plane made history by landing in Antarctica in November 2021, marking the maiden landing of an Airbus A340 in the region.
(Main and Feature Image Credit: Norse Atlantic Airways/Twitter)
Related: Know 8 Abandoned Airports Around The World And The Stories Behind Them
Written By