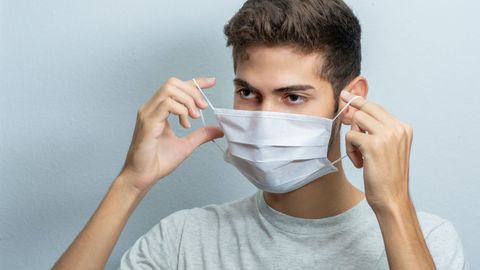 Mumbai, just like the rest of the country, is seeing a surge in COVID-19 cases, with active cases increasing 10 times in the last one month. Noticing the trend, the Brihanmumbai Municipal Corporation (BMC) recently mandated the use of face masks for employees, patients and visitors in all civic-run hospitals in the city.
The new directive came after the BMC reviewed the state's preparedness to deal with rising cases, including the availability of COVID-19 medication and medical oxygen supply. The review meeting was conducted by municipal commissioner Iqbal Singh Chahal at the civic headquarters in Mumbai, after which it was decided to bring precautionary measures back. Dr Mangala Gomare, executive health officer, BMC, told Hindustan Times, "Everyone in our hospitals has to wear a mask compulsorily. Our security staff at the entrance will instruct the patient, their relatives, visitors and staff to adhere to mask protocol."
BMC's latest guidelines for safety against COVID-19 The civic body has also urged citizens, especially those above 60, to wear face masks in crowded places as a precautionary measure, though the same is not mandatory for them. Dr Gomare added, "With the increasing number of COVID-19 patients, senior citizens above 60 years of age are more at risk. Therefore, it is recommended that all senior citizens above 60 years of age, as well as citizens with co-morbidities, should consistently use masks for safety."
Also, as per the directives, it is necessary for civic as well as private hospitals to keep beds ready in preparedness for a rush of patients in case infections rise and to also keep stock of protective gear such as PPE kits, medicines, masks and all other equipment that might be needed.
The BMC also said they would be issuing guidelines on the home isolation of COVID-19 patients.
Hero and Featured Image credit: Kobby Mendez/Unsplash
Related: Ramadan 2023: Break Your Fast At These Restaurants In Mumbai
Written By