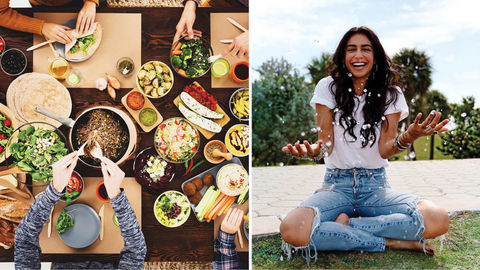 Valeria Hinojosa, a Latin American, transcends all physical barriers through her blog 'Water Thru Skin', to reach people who truly care about an eco-conscious and sustainable lifestyle. By Charu Chowdhary
Her phenomenal work drives scores of readers to take small, effective steps everyday. From supporting vegan and ethical brands for food and fashion, to providing first-hand accounts on how to lead a zero-waste lifestyle, Valeria's social media is the stuff of dreams for those looking to heal themselves as well as the world.
1. Tell us about what made you give up your secure job as a private banker to be a full-time travel and lifestyle blogger?
I worked in the private banking industry for five years only to realise in my fourth year that my soul had been completely consumed by ego and greed, and I had disconnected from my essence entirely. That's how my platform came to life as a way of venting and putting my thoughts, lifestyle and emotions in writing, and connecting with like-minded people in the process. This hobby became my career the minute I chose to leave banking in order to chase a life of passion, consciousness and freedom. I've been fully dedicated to @waterthruskin for the past four years now. Knowing that I get to inspire my readers to live more sustainably, mindfully, kindly, passionately and genuinely happy on a daily basis, is my motivation!
2. How fulfilling has your journey been in terms of happiness and financial stability after you made the switch?
The first year was really difficult. I went from making six figures as a banker to leaving it all and becoming a conscious and sustainable influencer when sustainability was not even a topic of discussion. Growing my audience and finding sponsors was hard, but every drop of sweat and tear was completely worth it. Not only have I been able to make a career out of being a conscious influencer, I also found my voice, peace and strength in vulnerability. My journey guided me to discover the magic of feeling comfortable in my own skin.
3. What do you think are the pros and cons of being a full-time blogger?
Pros: If we use social media in a wise way, we get to influence our audience to become wiser and more connected, and create a positive ripple effect. In my case, I also get to do what I love every single day — writing, creating, public speaking, protecting nature and animals, and discovering the world.
Cons: The amount of time I spend on my phone or computer creating content. Filming, writing long captions and putting up blog posts, all this work can take about one to 10 hours per day.
It gets a little overwhelming at times. Finding the right balance and knowing when to disconnect completely, has been key in my life.
4. Can you tell us why it is important to consider an eco-conscious lifestyle and what steps can beginners take in that direction?
We all see news every day. Temperatures keep rising and we continue to experience the devastating effects of climate change. It is very easy to point fingers, blame big companies and politicians, and not change our daily actions and habits. We have a big responsibility as consumers, and humans too. Reshaping our way of living can give birth to a positive ripple effect, while also inspiring those around us to become more conscious.
It all starts with baby steps we take at home, like reducing our waste production, composting, recycling, reducing use of plastic, transitioning into a plant-based diet, carrying a reusable water bottle and bamboo utensils, carrying personal cotton bags everywhere, switching to a bamboo toothbrush instead of the ordinary plastic ones, and supporting sustainable and fair-trade brands. Research is also extremely important! I use ecosia.org as my search engine for everything. From the silliest questions to any confusion I might have about sustainability. This is how I learn every day, while also supporting Ecosia's mission to plant trees with each search performed.
5. When and how did you turn vegan, and what are your favourite vegan cafes from around the world?
I've always been a big animal and nature-lover, therefore, when I realised I could protect both with my diet, I reshaped my entire lifestyle. I first turned vegetarian 10 years ago, and five years later I turned vegan. To be 100 per cent real, is neither an easy decision nor a simple lifestyle. It's a daily commitment to our health, planet and our own energy. I went from eating meat every day to giving it all up and metamorphosing into a conscious human being. Until today, it's one of the best decisions I've ever made!
Ali Pacha in La Paz, Bolivia, Sage in Bali, Indonesia, Plant Miami in Miami, Florida, Mahara Holistic Lifestyle (Boho boutique store and salon with the best vegan homemade food!) in Amsterdam, Flax and Kale in Barcelona, Spain, ABCV Kitchen in New York, Raw Love Café in Tulum, Mexico, Farmacy in London, and La Bodega Verde in Lima, Peru — are my top favourite vegan restaurants from around the world.
6. You've been to India. Any experience that you'd like to share, and anything you would recommend to your fellow travellers?
The South. Always! I've travelled all over India. From the Himalayas to New Delhi to Goa, and the places and people I truly connected with, were in Gokarna, Kerala, Puducherry and Auroville. Gorgeous gems surrounded by nature, overflowing with kindhearted humans, and sharing India's culture at its purest, as a woman, I also felt looked after in all these places.
7. Can you name your top countries that truly support and encourage eco-tourism and what is it that you think that they're doing right?
Costa Rica uses renewable energy, sustainable architecture and regulations that protect our oceans and nature. Every eco hotel I visited in Peru was deeply focused on educating guests and staff on the importance of protecting and preserving nature; Netherlands' goals and regulation focuses on reducing waste production, increasing their use of renewable energy, and promoting a circular economy. India has one of the Utopian cities in the world, Auroville. This city has over 2,500 residents and thrives on solar and wind energy, sustainable architecture, bartering, no politics, no currency and an acceptance of all religions.
8. Can you throw some light on what happens in the Bali retreat you conduct every year and who is it for?
I host a retreat in Bali every year to give an introduction on conscious lifestyle. We normally have 15 to 20 people of age group 20-50 years, all looking to learn more about living in sync with nature, people and one's own essence. Seven days at an eco-friendly hotel powered by the 12-metre waterfall underneath the bungalows, organic vegan food, yoga, chakra activating meditation, painting classes, Balinese workshops, plant dyeing classes, flower offering ceremony, volunteering, and much more. This retreat feels like a hug to the soul!
9. If you had to pick one lifestyle change that can truly have a positive impact on one's well-being, what would you choose?
Losing the fear of travelling alone or spending time by ourselves. In solitude. In silence. It is during those precious moments that we get to listen to (and talk to) ourselves and understand where the pain comes from, what triggers our genuine happiness, and what ignites the fire in our souls. We get to listen to our inner voice without the noise or judgment from the world and, to me, that is the most powerful antidote for our well-being.
10. What can people expect from your book Water Through Skin?
It's a book with 111 pages of words I wrote to myself during moments I needed them the most. To either uplift my spirit or engrave precious days and emotions, I wanted to relive every time I read those words. Each book also has vegan recipes, DIY rituals and is printed with vegetable ink on 100 per cent recycled paper, and plants a tree in Bolivia – my home country.
Related: Varanasi To Become The First City With Zero Discharge Of Pollutants In Ganga
Written By