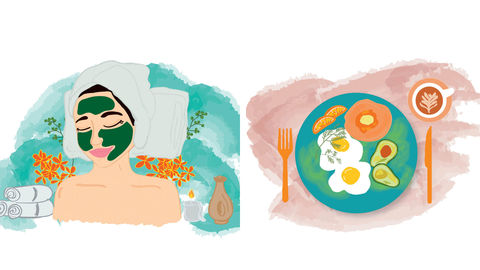 Reports suggest that Indians rank second among the 'bleisure' travellers in the world. With the segment growing exponentially, here's how hospitality brands are catering to the trend. Words By Riaan Jacob George & Illustrations By Nandini Shukla
Gaurav Jain, a 38-year-old marketing lead at an online streaming platform, has to travel across India for work often. While most of his travels are day trips or overnighters, every now and then, he is required to stay in a city for two to three days. This is when he extends his stay. He recently got his wife and three-year-old daughter to join him on a work trip to Bengaluru, and following his meetings, they enjoyed a leisurely weekend break in the city. The hotel he stayed at even offered a tailor-made package for his family. Similarly, Avani Bhende, a Mumbai-based interior designer who is required to travel to London, Paris, and Florence quite often, almost always extends her trips, "I get my husband, Kunal, to come along with me, and we usually take a small break after all of my meetings are done. This is a great way to maintain work-life balance. It also saves us the trouble of planning another trip entirely." Jain and Bhende are among the growing number of professionals who choose to blur the line between business and leisure trips. In the past few years, this has led to the emergence of a new sector (and coinage) called 'bleisure'.
VARIED MEANINGS
What, then, does bleisure imply for the hospitality sector? A popularly used portmanteau, bleisure simply means business-meets-leisure. The term could have several interpretations from a hospitality standpoint. Firstly, it means that business travellers are increasingly choosing to extend their stay at a business hotel, with or without family, to enjoy some time off. Another way to look at it is that traditional business hotels are now choosing to integrate more leisure elements into the experience. This could range from enhanced spa offerings to staycation packages and even family/children-friendly activities, which one wouldn't have necessarily seen previously at a corporate hotel. According to a Taj Hotels' research, more than 80 per cent of global business travellers combine work travel with exploring the city in which they are staying, and nearly 97 per cent believe that by adding leisure days, they are able to have immersive cultural experiences of the destination. ENHANCED OFFERINGS
The rise of the bleisure segment means that hotels are going all out to enhance their offerings. From extended operation hours at the spa and more extensive spa menus to family-friendly activities, brunches, and curated city experiences, all these offerings are lapped up by the business traveller. A case in point is the Conrad Pune, the city's prime venue for business meetings and events. To cater to the bleisure customer, the hotel has curated a 1-3-5 experience, where guests can explore the city with a guide for one, three, or five hours, depending on how much free time they have. Similarly, ITC Royal Bengal in Kolkata offers curated city itineraries through the old quarters of the city, in addition to other leisure-heavy experiences like curated dining experiences, local food sherpa trails, and more. Andaz Delhi, a stylish business hotel in the capital's Aerocity business district, banks on its concept of 401 Reasons to Fall In Love With Delhi. For its fast-paced business travellers, Andaz Delhi offers a calligraphy session with artist Qamar Dagar. The hotel's concierge even organises 401 Experiential Tours led by a host, whom the hotel terms as a 'Delhi Hero'.
Wellness is an important part of the leisure offering of any hotel. Many business hotels are now integrating wellness into the stay. Take The Westin Hyderabad Mindspace, which has a strong focus on fitness and where guests have the option of renting gym clothes and shoes. One of Mumbai's premium business hotels, Sofitel Mumbai BKC keeps its spa open till 11 pm so that travellers can squeeze in an element of wellness. SHIFTING PREFERENCES
Interestingly, it is not just hotels that are herding to cater to this emerging segment. Home-sharing platforms, traditionally considered as a reference point for leisure travellers, have strategically enhanced their offerings to the bleisure traveller. More and more corporate travellers have begun opting for home-sharing or apartment rentals over hotels. This is a sure-shot sign of the leisure element creeping into a business trip, as travellers want to have a more homely, experiential stay. "Bleisure travel has steadily been on the rise over the past couple of years, and we see more corporates not only allowing it but also embracing it. When on business, the modern traveller expects more from the experience," says Amanpreet Singh Bajaj, country manager, Airbnb India. Another contributing factor is that many businesses are now allowing their employees to choose their own accommodation, best suited to their travel plans, thus letting these employees extend their stay or include a little something more at their own expense.
SMALL BREAKS AND STAYCATIONS
At the core of this wave of bleisure, is the fact that more and more people are choosing small breaks, every couple of months—over longer annual vacations. Business hotels in major corporate hubs like Mumbai, Delhi, Bengaluru, and Pune are now starting to offer staycation options. "Small and frequent breaks are a trend, which is here to stay. City hotels with great leisure experiences are alternative options for holiday destinations, which take some amount of planning, time, and expense. Some of the hotels in our group, including the Taj Mahal Palace, Mumbai and Taj Land's End, Mumbai, are destination hotels, making them a popular choice for staycations and bleisure travellers," says Renu Basu, senior vice president, Sales and Marketing, The Indian Hotels Company Limited (IHCL).
Business hotels often see their occupancy rates drop on the weekend, hence they offer staycation packages to fill up their rooms. One of Mumbai's most popular staycation spots is the JW Marriott Mumbai Sahar, which is, for all practical purposes, a business hotel. But the property offers a superb holistic wellness offering and when coupled with culinary offerings like the family-friendly Sunday brunch, or even an Italian family-style meal at their restaurant, Romano's, it sees a lot of young professionals checking in with their families over the weekend. Shubham Chandra, general manager at Conrad Pune, adds, "Our Inspired Weekends packages include a host of fun activities for families to do together over the weekend. Activities range from cocktail and salad making to decorating cupcakes and spending time at the spa." It's interesting, thus, to see a host of corporate-friendly hotels gradually changing their narratives to offer more leisure and family-friendly elements.
Top Bleisure Trends in India
Staycations
Long opening hours of hotel spas
Curated city itineraries
Family-friendly packages
Home-sharing on work trips
Related: Experience High-Tech Hospitality: Indian Business Hotels Jumping Onto The Tech Bandwagon
Written By