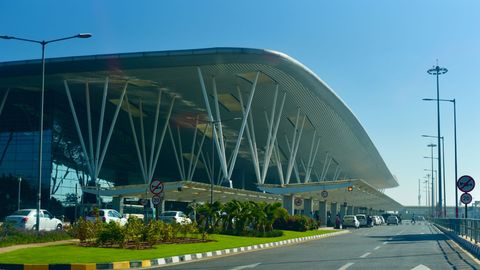 Bengaluru's Kempegowda International Airport will be partially shut for 10 days, from February 8 – 17, due to the upcoming Aero India Show 2023. The show (February 13-17) is scheduled to take place at Yelahanka Air Force Station, which is close to the airport.
The Bengaluru airport, on Tuesday, tweeted that the commercial flights will be impacted owing to the closure of airspace for a few hours during the 10 days. In the tweet, the airport authority also gave the schedule for the same.
Here's how will you be affected by Bengaluru Airport being partially closed
#PassengerAdvisory : There will be partial air space closure during Aero India 2023 impacting commercial flight schedules between 08 -17 February,2023. To know more about your flight schedules visit https://t.co/1SEtq4QZnH@MoCA_GoI @AeroIndiashow #BLRAirport #AeroIndia2023 pic.twitter.com/b8tvVmRR5c

— BLR Airport (@BLRAirport) February 7, 2023
The authorities have curtailed the operations of the international airport due to Aero India rehearsals and events. These are the times the airport will be shut:
February 8 to 11: 0900-1200 hours and 1400-1700 hours (for rehearsals)
February 12: 0900-1200 hours (for rehearsals)
February 13: 0900-1200 hours (for the inauguration ceremony and air display)
February 14-15: 1200-1430 hours (for air display)
February 16-17: 0930-1200 hours and 1400-1700 hours (for air display)
To view the list of flights impacted due to the above, click here: https://t.co/Qj9POW6zKB

— Akasa Air (@AkasaAir) February 7, 2023
Owing to the airspace closure, several airlines took to their social media channels to announce the cancellation or rescheduling of flights. One such airline is Akasa Air, which added that passengers could avail full refund on their flight, or rebook the flight to another date or time at no additional cost. The airport authorities, too, are updating their website to reflect changes in flight schedules so that passengers can plan their travel accordingly.
Hero and Featured Image credit: Shutterstock
Related: Take A Tour Of Bengaluru Airport's Terminal 2 Via Metaverse!
Written By