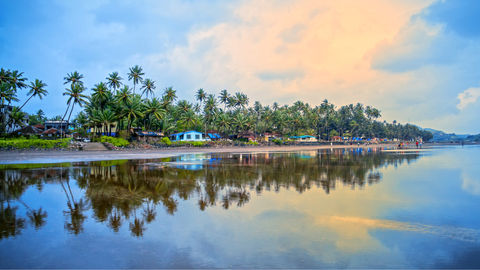 Maharashtra is bordered by the Arabian Sea on its west that stretches up to 700-km. Now that ensures the state coastline is home to many beaches, where the translucent waters of the Konkan gently lap onto pristine white sands. By Team T+L
The hues of the water and the sand varies every few kilometres and that's the beauty of the beaches in Maharashtra. There are many that you can take off to if you want some peace and quiet from the bustling city life, but here are the ones that must be at the top of your list.
1. Diveagar Beach:
Untouched and unspoiled by tourism, Diveagar Beach is one of the best beaches on the Konkan coast of Maharashtra. Located about 200-km away from Mumbai, it roughly takes 5-6 hours to reach here by car. It is an idyllic weekend getaway because it offers perfect peace and solace to nature lovers. The beach boasts of scintillating azure water, pristine white sand, and dense coconut-and- beetle nut groves all around. A few attractions to explore while you're here are the Lord Ganesha Temple that once housed a pure gold idol of Ganesha, and which has now been replaced by a silver idol.
2. Ganapatipule:
Ganapatipule is renowned for its aqua blue water, sun-kissed beach, palm trees, and the 400-year-old Swayambhu Ganesh Temple that attracts travellers from around the country. A beautiful respite from the city life, it takes about 8 hours to reach here from Mumbai (340-km). You can also visit Malgund (which is just round the corner from here) – the birthplace of the renowned Marathi poet Keshavsut.
3. Kihim, Mandwa:
If you've been to Alibaug many times and need an alternative for it, try visiting Kihim beach. Located 120-km away from Mumbai and 11-km from Alibaug, Kihim is a picturesque beauty lined with coconut and pine trees. There are also provisions for surfing and camping in tents on the beach. The spectacular Colaba Fort, just 10-km away from the shore of this beach makes for a great sight-seeing attraction.
Another beach just a short ferry ride away from Mumbai is the Mandwa beach. You can hop onto direct ferries from the Gatway of Indian in Mumbai to the Mandwa Jetty. Lined with lush green coconut and pine trees, this beach provides travellers with an excellent view across the bay. You can experience one of the most serene sunsets in Mandwa.
4. Bassein:
Located 77-km from Mumbai, it won't be unfair to compare Bassein beach with the beaches of Goa. That's because it has a fair resemblance with the exotic beaches in Goa; from pristine blue water, gorgeous palm trees, serene beaches and the ruins of historical Portuguese forts, Bassein offers gallons of peace making in an ideal weekend getaway. Some attractions that you can explore here are the Buddhist relics at Nalasopara, Akloli Hot Springs, Bhimeshwar Temple and a few stunning churches that were built by the Portuguese here decades ago.
5. Guhagar:
Tucked away in Ratnagiri district, Guhagar is an underrated gem of Maharashtra. Located between Vasishthi river and Jaygad creek, Guhagar is a tiny town on the Konkan coast with a beautiful secluded beach, making it one of the most peaceful beaches in the whole state. The beach here is fringed with suru trees that are known for providing a thick shade and heritage temples like those of Vyadeshvar (Shiva Temple) and Durga Devi. What's also great about this beach is the quintessential Konkani cuisine available here. Remember to walk down the road parallel to the seashore that runs through the town; so that you can appreciate the beautiful, tiny houses that are built with a courtyard outside and decorated with various rangoli patterns.
Related: 6 Unexplored Islands Around The World To Make The Beach Bum Excited
Written By