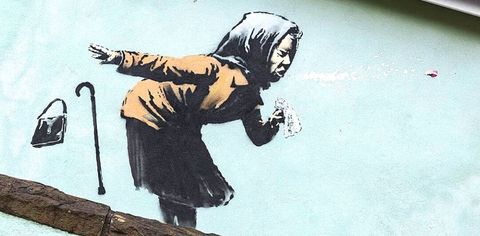 Graffiti artist Banksy's latest artwork Aachoo!! is making headlines all across the globe. Why? Here's the tea.
By Kumar Shree
View this post on Instagram
In a year dictated by the qualms of a global pandemic, a graffiti called Aachoo!! in Bristol—which appeared overnight—is taking the spotlight. After all, the work perfectly sums up the year 2020. Initially, the graffiti created waves with many speculating who created the art, until Banksy came forward and claimed it.
The artwork depicts an elderly lady—complete with a headscarf, handbag and walking cane—bending over while sneezing. However, it is not her looks that is creating the stir. It is her sneeze; a visual the artist made further powerful by painting clearly-visible dentures flying out of her nose. If the messaging isn't instantly clear, here's a hint: it is one of the many ways Coronavirus spreads between individuals.
The now famous work Aachoo!! adorns the sidewall of a home in Totterdown's Vale Street in Bristol's suburbs. Notably, Vale Street is one of the steepest roads in England. Although one can see the artwork from a distance, its real magic unveils by looking at it from a particular angle, which makes the rest of the street look like the Leaning Tower of Pisa.
View this post on Instagram
This is not the first time Banksy has created a stir with his works. His artworks are known to effortlessly attract bids worth thousands of dollars in Britain, and America's auction houses. One can size up his popularity and influence from the fact that he shared space with Barack Obama, Steve Jobs and Lady Gaga on Time magazine's 2010 list of the world's 100 most influential people. One can easily spot his work in Barcelona, Detroit, Paris, San Francisco, Vienna, and several other parts of the world.
Related: Manipur's Sony Thokchom Shows How Art Can Help Heal Mental Health
Written By