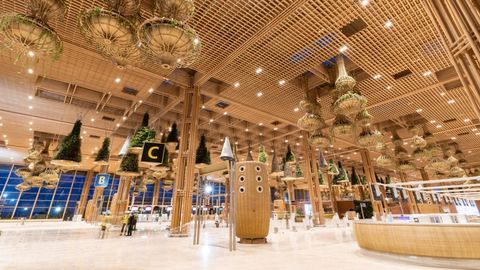 The Kempegowda International Airport Bengaluru is streamlining flight operations between its two terminals. While international flights were supposed to shift entirely to Terminal 2 of the Bangalore Airport on August 31, 2023, airport authorities have informed that the transfer will now happen on September 12. A statement regarding the same was released on August 31.
The statement by the airport authorities reads, "After consultation with regulatory authorities and other stakeholders, BIAL is pleased to announce the commencement of international operations at BLR Airport's Terminal 2 on 12th September 2023, from 10:45 am onwards. This decision has been taken after careful evaluation and consideration of various factors, including regulatory compliance, operational efficiency, and passenger convenience."
The statement adds that necessary steps will be taken to ensure a seamless transition for all flyers.
Terminal 1 of Bengaluru Airport to serve domestic flights
Terminal 2 #BLRAirport international operations announcement update.

For assistance please contact our customer engagement centre on +91-8884998888 (WhatsApp only) and 080-22012001/080-66785555. pic.twitter.com/JleZRKNWtV

— BLR Airport (@BLRAirport) August 31, 2023
Once the change happens, Terminal 2 will begin operating international flights exclusively, while Terminal 1 will operate as a domestic terminal. Additionally, T1 will also be undergoing renovation soon. One of the improvements to be made includes upgrading its baggage system.
Bengaluru Airport's Terminal 2 was inaugurated in November 2022 by Prime Minister Narendra Modi. The eco-friendly structure has a garden theme and several green initiatives in place. These include water conservation and using bamboo in construction as well as the use of renewable energy throughout. The terminal cost about INR 5,000 crore, and is spread over 2,50,000 square metres.
The airport's Terminal 2 began flight operations on January 15, 2023, catering to only domestic aircraft. As it is going to handle international passengers solely now, the terminal has been equipped with immigration counters, new restaurants, lounges and other facilities to provide a smooth experience to travellers. According to a report in The New Indian Express, the first flight to land at Terminal 2 will be a Singapore Airlines aircraft.
Hero and featured image courtesy: Prime Minister Narendra Modi/@narendramodi/Twitter
Related: In Pics: Bengaluru Airport To Welcome Terminal 2 Today With A 'Terminal In A Garden' Concept
Written By