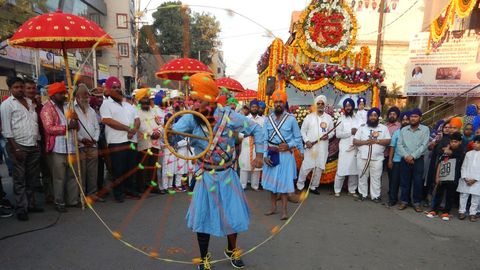 Baisakhi, one of the biggest festivals in Punjab, marks the new harvest season and spring season. The state every year organises a 3-day-long Baisakhi Mela to celebrate the occasion with songs, dance and delicious food.
While Baisakhi falls on April 14 this year, the District Administration of Kapurthala (Punjab) has announced that the festivities will start on April 23.
What is expected at the Baisakhi Mela? The community will come together to witness the glory of this spring festival. Nagar Kirtan will be at the centre of the celebration, along with grand processions and parades on the beats of dhol. For the uninitiated, Nagar Kirtan is a Sikh tradition involving the processional singing of religious hymns where the holy book, Guru Granth Sahib, is placed on a float carried around by followers. The procession is led by the Panj Pyare (Five Beloved Ones).
The Baisakhi Mela will have 50 stalls, along with freestyle wrestling. Traditional Punjabi dance forms like giddha and bhangra will also be part of the parade. You will be able to feast on authentic Punjabi cuisine, inluding dishes like sarson ka saag, makke ki roti, pindi chole and Amritsari kulche.
Book your stay at Ramada Jalandhar City Center via Booking.com
How to reach Kapurthala, Punjab?
By air: Kapurthala doesn't have an airport; the nearest airport is in Amritsar – Sri Guru Ram Dass Jee International Airport. The Amritsar Airport is around 83 km from Kapurthala.
By train: The closest train station to Kapurthala is in Jalandhar, about 24 km away. There are two railway stations in Jalandhar – Jalandhar City Junction railway station and Jalandhar Cantonment railway station.
By road: Kapurthala is well connected by roads – it is 405 km away from Delhi, 368 km from Dehradun and 165 km from Chandigarh.
Book your stay at Courtyard by Marriott, Amritsar via Booking.com
Hero and feature image credit: Shutterstock
Related: Explore This Royal City Of Punjab Because It's Much More Than Just 'Patiala Pegs'!
Written By