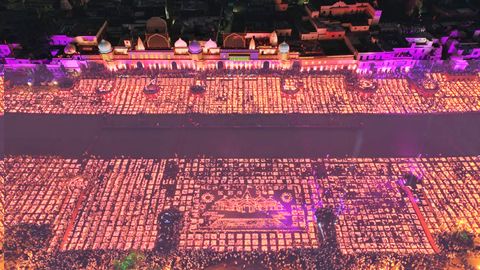 Diwali, which is also known as the Festival of Lights throughout the world, was a bit more brighter this year. How you ask? Ayodhya's Deepotsav entered The Guinness Book of World Records by lighting 15.76 lakh diyas. Here's how they managed to do so. By Nishtha Grover
Ayodhya's Deepotsav enters The Guinness Book of World Record
Pictures of people celebrating Diwali throughout the globe landed on social media this year. In India, the festival is always a special treat as families come together and decorate their homes while relishing delicious treats.
However, Ayodhya, which is the birthplace of Lord Rama, has a rather special connection with the festival. The festival of light celebrates the return of Lord Rama to his homeland with his wife Sita and brother Lord Laxman after the 14-year-long exile. That is why every year, Ayodhya celebrates the festival by lighting Diyas through the city.
अलौकिक, अद्भुत, अतुल्य श्री अयोध्या जी… pic.twitter.com/EMrxQo5eDh

— Yogi Adityanath (@myogiadityanath) October 23, 2022
This year, the people of Ayodhya managed to create a world record by doing so. For Ayodhya Deepotsav 2022, 19,000 volunteers on the occasion of Chotti Diwali, managed to light 17 lakh diyas on the Ram Ki Paidi on the banks of the revered Saryu River.
Only 15.76 lakh diyas were considered for the record as the officials counted only those earthen lamps that remained lit for five minutes or more. Another regulation was that all the diyas were to be lit within a 40-minute timeframe.
More about the event
श्री अयोध्या जी में आयोजित भव्य दीपोत्सव-2022 में सर्वाधिक दीप प्रज्वलन कर बने विश्व रिकॉर्ड का प्रमाण-पत्र आदरणीय प्रधानमंत्री जी को भेंट किया।

इस रिकॉर्ड के बनने में सहभागी हर नागरिक का अभिनंदन, आभार! pic.twitter.com/bV7UAokkpJ

— Yogi Adityanath (@myogiadityanath) October 23, 2022
Prime Minister Narendra Modi was the chief guest at the prestigious event and after the success of it, he even handed the achievement certificate to Chief Minister Yogi Adityanath.
The event began at 5:15 pm and there was an official from the Guinness Book Of World Records overlooking everything. The devotees at the spot kept chanting, "Jai Shree Ram." Moreover, after the ceremony, there was also a 3D holographic program which screened a few episodes of the Ramayana. To end the ceremony, a few Ram Bhajans sung by singer Lata Mangeshkar were also played to give tribute to the legend.
Main and Feature Image Credit: myogiadityanath/Twitter
Related: Events In October To Help You Bring In The Festive Season With Food & Laughter
Written By