Find azure waters, Maldivian architecture, luxurious experiences and organic wellness at Ayada Maldives. By Bayar Jain
The tropical nation of Maldives oozes luxury, exhibited at the several resorts that speckle its shores. At Ayada Maldives, an all-encompassing feeling of well-being adds to the experience.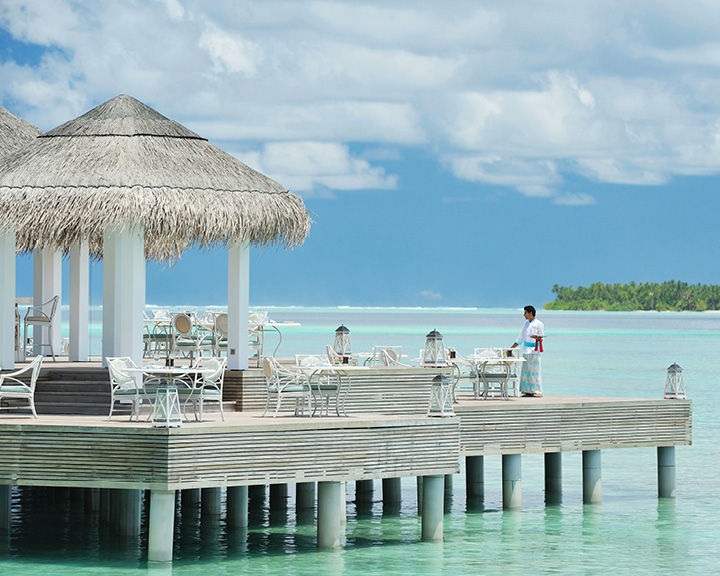 Nestled on a private island on the southern tip of the island nation, Ayada is surrounded by crystal-clear, coral-reefed waters that are home to an abundant underwater life and bordered by pristine white-sand beaches that are fringed by tropical greens. The paradise offers accommodation in a variety of spacious villas and suites. Traditional thatched-roof water villas stand on stilts over the resort's peaceful lagoon, while beach villas offer absolute privacy on powder-soft palm-lined white beaches. The personal butler service and five-star dining add to this peaceful opulence.
Irrespective of the kind of traveller you are—laid-back or active—the resort caters to your every need. For the more active lot, the resort provides lessons in yoga and even has water sports. Explorers can simply hop on to a speedboat for snorkelling, diving and surfing opportunities. For culture enthusiasts, excursions to local villages and fisheries can also be organised. If wedding bells are around the corner, you can choose to walk down a tree-lined aisle at one of the resort's private wedding chapels or even bask in the sunset glory under a flower-covered gazebo on the beach.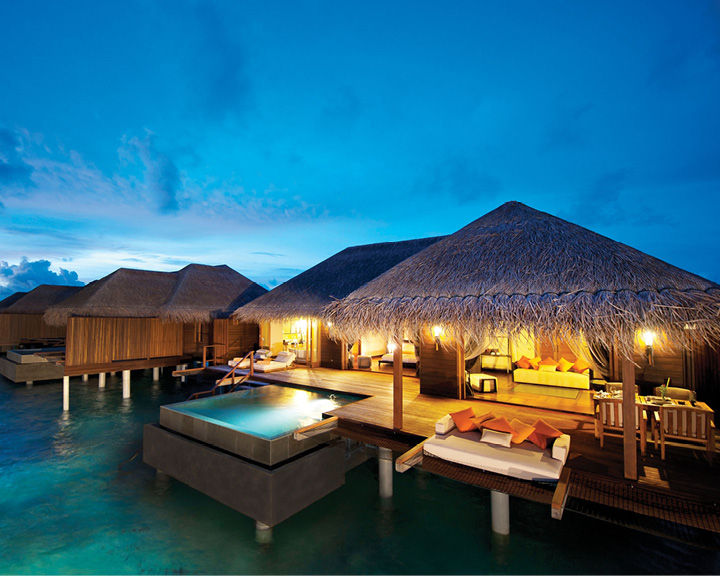 Leisure travellers can choose to unwind at AySpa, Ayada's award-winning luxury spa. The 3,500-square-feet spa showcases terrazzo floors with marble and timber hues to reinforce an indigenous feel to your spa experience.
Treatments are offered in eight spacious villas, some of which come with their own hydrotherapy baths. Each of these villas offers a steam shower and an outdoor courtyard with a sunken bath. Segregated sauna rooms, vitality pools, cold plunge pools and a mani-pedi salon make the experience even more pleasurable. You can choose to pamper yourself alone in complete privacy or make it a romantic experience with your loved one. The spa also features Maldives' first Vichy shower room and private Turkish hammam with an elaborate marble plinth. Amenities aside, the traditional hammam itself is relaxing and soothing. Here, the Indulgence Hammam Ritual begins with a deep-cleansing body scrub, followed by a full-body foam massage. After the massage, an orange and rose geranium body mask is applied. The pampering then continues in the form of a refreshing hair wash and a hydrating conditioning scalp massage treatment.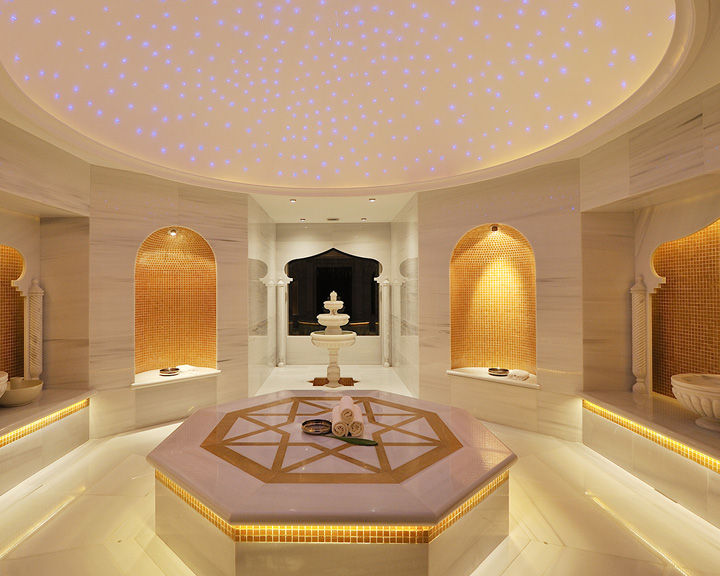 For a more tailored treatment, try the signature Balancing Ritual. Beginning with an intensive full body exfoliation under a Vichy rain shower, the ritual includes a salt and oil scrub and a massage to release tension. A re-balancing facial completes the two-hour treatment.
Transcending self-indulgences, the resort also ensures an all-round wellness experience owing to its homegrown organic produce. The Secret Garden at Ayada Maldives is replete with vegetables, herbs and fruits that make their journey to guests' plates. To ensure the highest quality, the head chefs and gardeners visit the farm regularly. The more curious guests can take a private tour of the Secret Garden to learn about the intricacies of Maldivian produce and harvest. Speaking of food, the resort offers multiple cuisines to choose from. Whether it is eating a freshly barbecued lobster by the beachside, or indulging in a show-cooking teppanyaki dinner, or even enjoying a romantic candle-lit dinner with your partner, Ayada Maldives ensures all of it is done in style. And the guilt of your gluttony can easily be worked off by training with a personal trainer at the resort's 24-hour gym.
THE DETAILS
GETTING THERE
Ayada Maldives is located in the relatively remote and unspoilt region of Gaafu Dali Atoll in the Indian Ocean. To reach this little paradise, guests can hop on to one of the many non-stop flights from New Delhi or Mumbai, and then take a quick hour-long domestic flight from Male International Airport (MLE) to Kaadhedhoo Domestic Airport (KDM), followed by a 50-minute speedboat transfer offered by the property.
STAY
Doubles from INR 34,000.
Related: This Season Indulge In A Wellness-Filled Island Retreat At Ayada Maldives