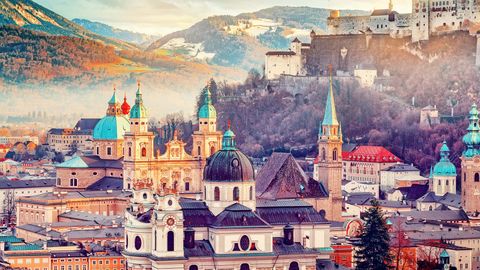 Editor's note: The global COVID-19 crisis has left each one of us deeply affected and we want to help. Burda Media India has organised a fundraising campaign to #FightBackWithTesting and donating RT-PCR test kits to the worst-affected areas in India, which will be secured from our testing partner Mylab Discovery Solutions. You can help these kits reach many more by donating for the cause or by adopting a kit. Click here to join the fight.
If there is one concern on the mind of any traveller right now across the world, it's that of safety and health. In a bid to ease them and attract travellers back to the country, to revive its economy, Austria is planning to conduct mass COVID-19 tests of hotel staff to ensure the well being of tourists. By Manya Saini
European countries have had a measure of success over the Coronavirus pandemic with strict implementation of lockdowns and social distancing regulations. Most are now looking to reopen their borders for summer tourism, to save the crisis-hit industry and revive their economies. Among the many new measures announced, Austria has decided to do mass COVID-19 testing of hotel employees to reassure travellers of their safety.
View this post on Instagram
As per reports, private labs have been roped in to begin testing as many as 65,000 hotel staff every week starting July 1. The labs are ramping up production to meet the increased demand, as currently, it's testing approximately 6,000 to 8,000 people daily.
In a recent press conference, Austria's Chancellor Sebastian Kurz said, "In which country in the world can you go on a holiday and say the staff you come into contact with, the waiters, are tested regularly?" He reiterated that the country was looking to invest in the venture to curb the spread of the virus and ensure that no person in contact with others can infect multiple people.
A large number of tourists, in the country, are people from Germany, as the two share a border that will reopen on June 15. Austria will reopen hotels on May 29 while restaurants and bars have been welcoming people since May 15, with restrictions on movement and crowding to comply with social distancing protocols.
View this post on Instagram
Its capital Vienna, which has slowly emerged from the lockdown has seen restaurants and other similar establishments adopting new and unique practices to ensure the safety of patrons like placing mannequins around its bars and tables to mark the distance that people are required to maintain.
Austria so far has reportedly had 16,459 positive cases of the virus, with 641 deaths, a relatively low number in comparison to other European nations. Tourism accounts for 8 per cent of the Austrian economy and approximately 15 per cent when accompanying industries like aviation is considered.
Related: #StepAhead: Abu Dhabi Launches First Safe & Clean Certification For Tourism Sector
Written By