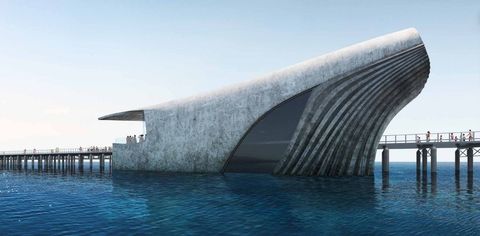 The Australian Underwater Discovery Centre (AUDC) will soon get a brand-new design upgrade. Read below to know all the details. By Kumar Shree The new structure of AUDC, Australia's largest marine observatory, is breaking the internet and for all the right reasons. The structure will sit at the end of Busselton Jetty, two hours from Perth in Western Australia. You'll be surprised to know that the public was encouraged to vote and choose their favourite design (amongst the top three designs). Let's tell you a bit about these designs. The first design, The Rock/Sea Cave sought inspiration of shape and colour from the Castle Rock in western Australia. The second one, The Cetacean displays a whale raising its head over the Geographe Bay. And the third design, The Voyage mirrors a ship anchored to the pier side. Out of the three, The Cetacean grabbed the maximum number of votes. As per the official press release shared by Baca Architects, Bustleton Jetty's Chairman Barry House, said, "This is as authentic as it gets because people are in the tank and the fish are looking in. By adding underwater dining, underwater sculptures, marine art and other features, this project will enhance Bustleton Jetty's 155-year-old experience."
The interiors of this establishment will measure 900 sq. m (about 9,680 sq. ft.), approximately. It will also have an underwater trail and underwater dining facility. Mentioning about the visitor experience, the press release stated, "Once inside the AUDC, visitors can embark on a unique journey towards the ocean floor level observatory. Passing through an art gallery, and exhibition spaces on the descent, the circulation is accentuated by the 'Cetacean's' eye – a large, and partially submerged structural glass window that recalls a whale peeking up above the ocean surface."
The project is slated to reach completion by December 2022.
Related: This Heart-Shaped Reef In Australia Could Become Your New Honeymoon Goal After Being Closed For Decades To Visitors

Written By