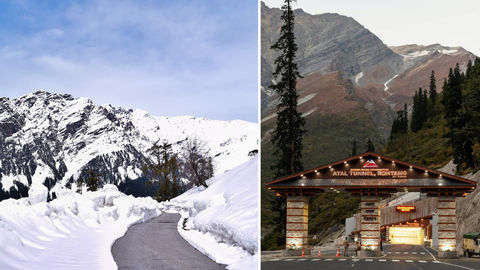 After the recent snowfall in the region, the north gate of Atal Tunnel has been witnessing a notable surge in the number of tourists visiting the place. By Kumar Shree
As the year is nearing its end, more people are taking a break and flocking to the mountains. While the move has shot up the tourist footfall in the mountains, it turns out that the north gate of Atal Tunnel is turning into a hot favourite location among travellers.
View this post on Instagram
Since the Atal Tunnel has further eased people's movement to Manali, Rohtang and Lahaul Valley, it is portraying a healthy surge in the number of tourists visiting the region. Those looking to visit Manali are passing through the tunnel to reach Lahaul Valley, where many can be seen enjoying skiing and other snow activities, especially since the town and some other areas of Himachal Pradesh received the season's first snowfall about two weeks ago.
Ever since the tunnel's inauguration ceremony, the Himachal Pradesh government has been exploring the possibilities of introducing homestays in the nearby locations to generate extra revenue. The tunnel has also relieved the region from its traffic woes, which is attracting more travellers in return.
View this post on Instagram
As of now, the state is witnessing maximum tourist footfall from Punjab, Haryana and Delhi. This sudden spike in tourism has also opened new monetary opportunities for the locals, who are setting up temporary food and clothing stalls to generate some income. The hotels in the region are also getting better business because of the tunnel.
However, even though the Atal Tunnel has provided much-needed relief for the region's ecology, many tourism experts also speculate that the lack of infrastructural facilities might hurt the number of visitors with time. They suggest that the State Government should demand a special package from the Centre to come up with immediate infrastructural upgrades.
Related: #SomeGoodNews: Get Ready To Soon Hop On A Vistadome Bus From Manali To Leh
Written By