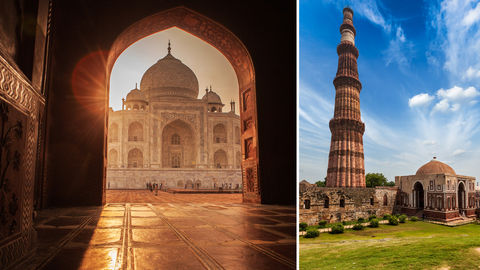 More ASI monuments to be once again thrown open for the public from July 6, but with strict safety and hygiene protocols in place as directed by the Government of India. By Tanvi Jain
View this post on Instagram
As India has further relaxed restrictions in its second phase of Unlock, the Government has allowed more Archaeological Survey of India (ASI) protected monuments to reopen from July 6. This includes Taj Mahal, Red Fort, Qutub Minar, Humayun's Tomb, Purana Quila, etc.
The announcement for the same was recently made by Union Minister for Culture and Tourism Prahlad Singh Patel. "Photos of Sanchi (Madhya Pradesh), Purana Quila (Delhi), Khajuraho (world heritage monument). I have decided that from July 6 all monuments can reopen with precautions," he tweeted.
सांची (मध्यप्रदेश),पुराना किला (दिल्ली),खजुराहो (विश्व धरोहर) के प्रतीकात्मक चित्र।मैने @MinOfCultureGoI @ASIGoI के साथ निर्णय लिया है कि आगामी ६जुलाई से सभी स्मारकों को पूर्णसुरक्षा के साथ खोले जा सकता है @PMOIndia @JPNadda @incredibleindia @tourismgoi @MinOfCultureGoI @BJP4MP pic.twitter.com/opPzj5Mg7l

— Prahlad Singh Patel (@prahladspatel) July 2, 2020
However, tickets will have to be booked online-only, and certain activities such as light shows, and group photography within the premises will remain suspended till further notice. A limited number of visitors will be allowed at a time, that too, only with masks on. While the cap for Red Fort and Qutub Minar is reportedly 1,500 in each slot, for Purana Quila it's 2,000 per day.
Moreover, visitors will be allowed entry and exit only via designated routes, which will have the provision of hand sanitisation and thermal screening. The authorities will ensure that they spend limited time inside the monument and that there is no overcrowding. The vehicles will also be allowed to park within the designated areas itself, and all kinds of payments will be made digital.
View this post on Instagram
Furthermore, guides and photographers will be allowed to work only if they have a valid license. While no edibles will be allowed within the premises, water bottles will be available upon digital payment.
The ASI has over 3,000 monuments under it, out of which 820 have already been reopened on June 8, in compliance with all the protocols issued by the Ministry of Home Affairs (MHA) as well as the Ministry of Health and Family Welfare (MoHFW). As many as 3,691 ASI protected monuments and archaeological sites were shutdown for the public from March 17, few days before Prime Minister Narendra declared the first nationwide complete lockdown in order to curb the rising cases of COVID-19.
Related: This Is How You Can Visit These Monuments In India From Your Home!
Written By