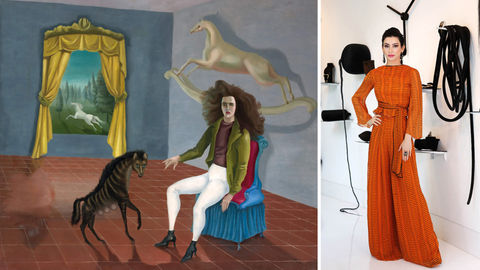 Editor's note: The global COVID-19 crisis has left each one of us deeply affected and we want to help. Burda Media India has organised a fundraising campaign to #FightBackWithTesting and donating RT-PCR test kits to the worst-affected areas in India, which will be secured from our testing partner Mylab Discovery Solutions. You can help these kits reach many more by donating for the cause or by adopting a kit. Click here to join the fight.
The world and our existence as we knew it has undergone a significant change in meaning. From the way in which we would live our everyday lives, to the amount of time we would willingly spend inside our homes, one finds that our preconceived notions of time and productivity have undergone a significant paradigm shift, recently. As India enters its fourth phase of the nationwide lockdown, I decided to reflect on these extraordinary times as reflected in surrealist works of art. By Shalini Passi
1. Joan Miró, Horse, Pipe and Red Flower (1920)
Joan Miró was a Spanish painter, sculptor and ceramicist whose work has often been interpreted as surrealist, with influences from cubism and magical realism. His works incorporated ideas of the subconscious and the recreation of child-like symbolisms, leading to the formation of a concise pictorial language. Horse, Pipe and Red Flower is one of Miró's earlier works, incorporating elements of cubism and attributing a strong symbolic meaning to the objects represented. The title of the work alludes simply to the objects Miró paints, everyday objects which gain added symbolic and aesthetic meaning through the artist's hand. Miró's painting reminded me of the way in which people are photographing mundane objects around them, spurred on by having to stay inside and finding artistic vision from their surroundings even when inside.
2. Giorgio de Chirico, Conversation Among the Ruins (1927)
Giorgio de Chirico was an artist who founded the scuola metafisica or metaphysical art movement, known for its profound influence on the surrealists. Chirico's works often showed Roman arcades, long shadows, and illogical perspectives. Chirico's painting depicts a couple having a conversation in a room without walls, against the backdrop of a desolate dreamscape. Markers of a typical interior are hinted at through the presence of the wooden floor, the rug underneath the chair on which the woman is seated, as well as a fragment of a wall with an artwork mounted on it. The painting depicts a physical intimacy through the simple act of trying to converse, despite the desolation and the inherent issues that one may be going through. As we await the long-term consequences of our current situation and learn to stay in, time that we would have spent for work or commute is being spent in conversations with our partners and families, which had earlier been impossible because of lack of time.
3. Rene Magritte, The Lovers (1928)
Rene Magritte is best known for infusing everyday objects in unusual contexts, infusing them with deep, symbolic meanings. Magritte's created a number of witty, thought-provoking images that contemplated the ideas prevalent around art during his time, and was deeply involved in the Surrealist art movement. Magritte's painting depicts a man and a woman in a loving embrace, their kiss obstructed by the white cloth enshrouding their faces. Magritte's painting subverts our voyeuristic expectations by mimicking an intimate pose made famous in pulp and thriller books, but disrupted by the presence of the shrouds. The painting is also emblematic of Surrealists' larger interest in masks, disguises, and what lies beyond the perceived visible. This work, however, also echoes the new ways in which we might experience human contact and intimacy in a post-pandemic world, with the new normal consisting of guarding our health through the use of face masks.
4. Salvador Dalì, The Persistence of Memory (1931)
Salvador Dalí is one of the foremost surreal artists of the twentieth century. Dalí's artistic oeuvre included painting, graphic arts, film, sculpture, design, and photography. Dalí's contribution to the visual aesthetics of surrealism is extremely important. The Persistence of Memory is one such work that demonstrates Dalí's exemplary work within the genre of surrealism. This painting also aptly depicts the way in which a lot of us might be experiencing time these days. There are days when one cannot differentiate a Monday from a Saturday, as our very notion of time melts into an incoherent puddle. Dalí's painting captures this feeling in the famous painting that depicts melted clocks adorning a barren tree branch, draped across surfaces as an otherworldly landscape looks on. This dreamlike rendering of the experience of time itself presents an early precursor to the surreal ways in which we are experiencing time today.
5. Max Ernst, La ville pétrifiée [The Petrified City] (1933)
Max Ernst was a primary pioneer of the Dada movement and surrealism, with an artistic oeuvre encompassing painting, sculpture, and graphic arts. Ernst was an extremely experimental artist, credited with developing the artistic methods of frottage and grattage. Ernst's painting employs the technique of grattage in representing the uneven rectangles piled on top of each other, depicting the skyline of a city. The giant moon looming over the surreal city lends an otherworldly quality to the painting. The disproportionate skyline shows a desolate view of the city, reminding me of a similar lifelessness that might characterise our cities today, devoid of the buzz of everyday life.
6. Pablo Picasso, La Muse (1935)
Pablo Picasso is arguably one of the most influential artists of the twentieth century, credited for co-founding the Cubist movement as well as for the wide variety of styles that he experimented with in his artistic career. Picasso's La Muse depicts a cubist vision of a naked figure looking at herself in the mirror and recreating the image on a piece of paper. The artist is presumably represented by the slumbering figure in blue in the background, shifting the onus of creation onto the typical muse figure in the foreground. La Muse is a vision of leisure and artistic creation, which recalls the number of creative projects that we are completing as we find ourselves confined to our homes.
7. Rene Magritte, La Clairvoyance (1936)
La Clairvoyance is a self-portrait that depicts Magritte painting a bird, using an unhatched egg as a reference. The painting alludes to the artist's role as creating and visualising the future—the work also alludes to hope, represented by the bird on Magritte's canvas, whose wings are outstretched and is flying towards an uncertain, yet hope-filled future. Like the self-portrait of the painter at work, a number of us have turned to creative outlets such as creating art, learning new things, perhaps a new musical instrument or a new recipe that had been in our bookmarks for months and reconnecting with our inner creative being. I would like to believe that, like Magritte, we all create beautiful works of art that also looks at our future through uncertain yet hopeful eyes, envisioning a thriving bird from an unhatched egg.
8. Leonora Carrington, Self Portrait (1937-8)
Leonora Carrington was a well-known painter, artist, and novelist, who also collaborated with the German artist and primary pioneer of Dada and surrealism. Carrington's self portrait is considered to be one of her earlier surrealist works, depicting the artist in white jodhpurs and wind swept hair, with a hand outstretched towards a pouncing hyena. A tailless rocking horse is suspended behind the artist and a horse mimics the pose outside the window against an idyllic landscape. Carrington's self portrait is equal parts dream-like and meditative, a mediation of the artist's duality of the self, of being the observer and the observed. This image of self reflexive human isolation mirrors the situation that the ongoing pandemic has brought about in making us spend time alone with ourselves.
9. Frida Kahlo, Without Hope (1945)
Frida Kahlo is known for her many portraits, self portraits, and works inspired by the nature and popular culture of Mexico. Kahlo was associated with the postcolonial Mexicayoti movement, which sought to define a Mexican identity, apart from her recognition as a surrealist and magical realist. Kahlo's Without Hope is a self portrait that was painted by the artist after a bout of illness left her emaciated and malnourished, restricted to a diet to counter her health. Without Hope is a frank portrayal of illness and suffering, visualising a deeply personal experience the artist went through. Kahlo lies in bed with tears in her eyes, unable to move while the easel she uses to paint balances the funnel through which she is fed her diet. The landscape in the background is illuminated by both the sun and the moon, holding deep symbolic meaning. This image of suffering resonates with us today, a stark loss of hope in the midst of an ongoing crisis in the world today.
10. Alberto Giacometti, L'Homme qui marche I (1961)
Alberto Giacometti is considered one of the most important sculptors from the twentieth century, with his style being influenced by Surrealism, Cubism, and philosophical questions around the human condition. Giacometti's bronze sculpture depicts a walking man, and is one of his most famous sculptures, all comprising tall yet slender bodies. Although Giacometti was involved with the surrealist movement in the 1930's, he moved away from the art movement and delved deeper into studies of the human body. His figurative sculptures are considered to embody the post-war desolence that occupied the human condition due to the mass destruction and socio-economic problems that followed the second world war. Giacometti's rendering of the tall figure captures a psychological strain and visualises the human burden which follows devastating events. As the world battles with an unprecedented illness and measures are invoked to keep it under control, the true bearer of the actual consequences of our world overturning will be the common man, walking with the burden.
Related: Shalini Passi Handpicks Artworks That Beautifully Summarise Our Current Situation
Written By