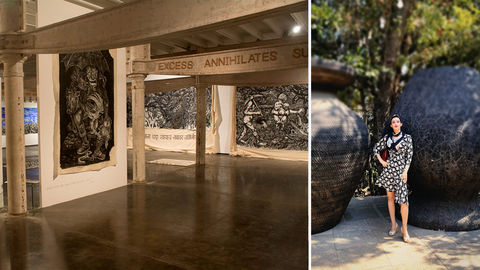 Mumbai has often been dubbed as the 'City that Never Sleeps'. Inhabiting the same fervent quality, Mumbai is renowned for its highly diverse experiences derived from its equally colourful residents. Being the land of cinema lovers, this city also has a rich culture of artistic avenues. Here are some of our favourite spots to catch a glimpse of the burgeoning art landscape in Mumbai. By Shalini Passi Chemould Prescott Road is one of the oldest commercial art galleries in India. Established in 1963 by Kekoo Gandhy and Khurshed Gandhy, the gallery is reputed for its role in modernist art history of India. Artists such as MF Husain, Tyeb Mehta, SH Raza, and Bhupen Khakhar have exhibited their works in Chemould. Other modern and contemporary artists who have exhibited works at the gallery include Atul Dodiya, Anju Dodiya, Jitish Kallat, Reena Saini Kallat, Krishen Khanna, Vivan Sundaram, Dhruvi Acharya, and Gigi Scaria. Chemould is an unmissable stop for any art lover who wishes to explore the latest works in the contemporary art scene. With its extensive roster of artists, this space regularly organises exhibitions, giving audiences an in-depth glance at an artist's oeuvre. Founded by Mortimer Chatterjee and Tara Lal, Chatterjee & Lal is located in Mumbai's Colaba art district. With a focus on mid-career artists, the gallery also highlights historical material of the twentieth century. The gallery's collection includes works by pioneers like Nasreen Mohamedi, Rustom Sisodia, and Riten Mozumdar as well as contemporary artists like Nikhil Chopra, Thukral and Tagra, Rashid Rana, Minam Apang, and Mark Prime, to name a few. These artists also exhibit globally, wherein the gallery also participates in select art fairs. In Mumbai, however, Chatterjee & Lal regularly organises exhibitions of artistic works and eclectic collections, ensuring every visit here remains fruitful. Located in a quaint bylane of Colaba, near the iconic Gateway of India, Akara Art is a modern and contemporary art gallery that focuses on showing new and quality artworks. Founded by Puneet Shah in 2009, the gallery has now acquired a vast collection of work by established modern artists. Think, Amrita Sher-Gil, Anish Kapoor, Arpita Singh, Dayanita Singh, Dhruv Mistry, Rabindranath Tagore, Somnath Hore, Jagdish Swaminathan, Manjit Bawa, Meers Mukherjee, and Zarina Hashmi. Formed in 2010 by Amrita and Priya Jhaveri, Jhaveri Contemporary aims to represent artists whose work revolves around South Asian connections and traditions. The gallery is dedicated to furthering original art scholarships through carefully curated shows. The gallery's programming also seeks to focus on the diversity of established artists' practices, giving audiences a glimpse into the multifaceted nature of contemporary art. Project 88 was established in 2006 under the directorship of Sree Bannerjee Goswami and is presently located in the premises of an old printing press in Colaba. It seeks to focus on discovering and nurturing emerging talent, while also working with cutting-edge and internationally known mid-career artists from South Asia and elsewhere. Project 88 participates in a number of art fairs, including Frieze—London and New York; Arco; Art Basel, Hong Kong; Art Dubai; and the India Art Fair. The extensive and diverse selection of artists here includes Prajakta Potnis, Desire Machine Collective, Neha Choksi, Raqs Meida Collective, Rohini Devasher, Himali Singh Soin, Tejal Shah, Shreyas Karle and Amitesh Shrivastava. The gallery organises regular shows of their artists, especially those who have taken bold artistic decisions and are currently redefining the contemporary art landscape in South Asia.
Shalini Passi, the founder of Shalini Passi Art Foundation and MASH, will be curating one such list from all across India. Stay tuned as the art collector takes you on a cultural escapade every weekend.
Related: Art Connoisseur Shalini Passi Picks Kolkata's Top 5 Art Galleries And Museums
Written By