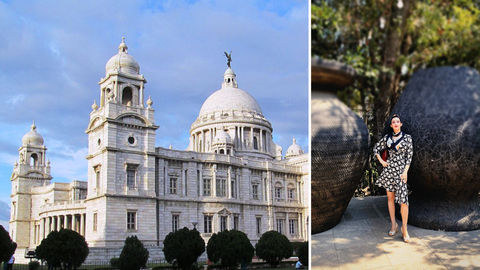 Kolkata has many different faces, something that is best reflected in its rich cultural history and cosmopolitan art scene. From flaunting the best of colonial-era architecture to being home to some of the leading contemporary art galleries in the country, Kolkata has it all! Here are the top 5 art galleries and museums in Kolkata that every art lover must pay a visit to. By Shalini Passi
Art Galleries and Museums in Kolkata Established by Prateek and Priyanka Raja in 2009, the gallery functions as a facilitator of cutting-edge and experimental contemporary practices. With its focus on building knowledge around the arts, Experimenter's programming includes regular talks, performances, workshops, and exhibitions. Located in Hindustan Road and Ballygunge Place, the gallery occupies two floors of a restored mid-20th-century building. While the structure and its space evoke the history of the city, it also organises contemporary works and regular performances, film, photography, music, lectures and salon-style workshops and discussions. Its diverse programmes extend beyond traditional ways of representing and experiencing contemporary works of art, making Experimenter an essential stop for all art lovers. Emami Art is one of Kolkata's leading destinations for modern and ahead-of-the-curve Contemporary Art. Led by Richa Agarwal, CEO of Emami Art and the Executive Director of Kolkata Culture of Creativity (KCC) – where its newest arts space is located – the gallery's regular programming includes curated exhibitions that honour the work of eminent masters of regional, national and international repute. The gallery also hosts works of new and emerging artists. Its space in KCC allows for an interactive and multi-disciplinary approach as well.
3. Marble Palace The Marble Palace is a 19th-century house built by Raja Rajendra Mullick, an avid art collector. Although the house continues to be his descendants' residence, it is home to a number of western sculptures; Victorian furniture and sculptures; and Belgian glassware. It also houses more than 70 rare artworks bought from Italy and Belgium in 1830. A visit here transports the visitor to Victorian-era Calcutta through its magnificent decor and neoclassical architecture. However, one needs to obtain a special permit from the West Bengal Tourism Information Bureau to visit the palace. Once you obtain it, an escort will tour you across the property to view the various objects and artworks on display.
View this post on Instagram
Tracing its roots to a family of art collectors spanning three generations, Akar Prakar was founded in 2004 by Reena and Abhijit Lath. Today, the gallery frequently collaborates with international museums and curators, thus fostering transcultural histories and carving a space for indigenous artists. With its sister gallery in New Delhi, Akar Prakar curates interweaving narratives between the subcontinent's modern and contemporary art movements, of which their recent curatorial focus on highlighting emerging historical narratives around South-east Asian art and culture. The gallery's multicultural approach renders the gallery essential for all who appreciate diverse works of art.
View this post on Instagram
A trip to Kolkata is incomplete without a visit to the iconic Victoria Memorial Hall – a magnificent monument resplendent with intricate British architecture. Initially built to commemorate Queen Victoria of England, the hall functions as a historical museum with a vast collection of Indian paintings, rare photographs, manuscripts, Western paintings, sketches, textiles and miniatures. The museum is an essential stop for both, students of art history, and art lovers who wish to appreciate landmark works of Indian art. The Hall itself is emblematic of colonial-style architecture, giving visitors a glimpse into the city's former colonial nature. With its old-world charm and rich collection, Victoria Memorial Hall is not only an unmissable tourist spot but also an important repository of artworks in the city.
Shalini Passi, the founder of Shalini Passi Art Foundation and MASH, will be curating one such list from all across India. Stay tuned as the art collector takes you on a cultural escapade every weekend.
Related: Bengaluru's Top 5 Art Galleries And Museums, Handpicked By Art Connoisseur Shalini Passi
Written By