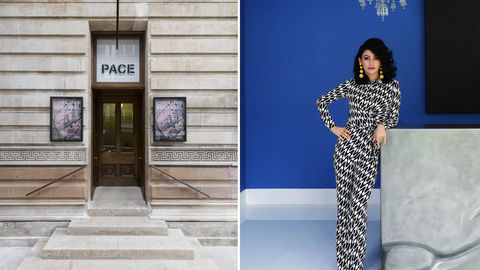 Art connoisseur and curator Shalini Passi sketches out a gallery trail in London. If you're a collector, admirer, or even a dilettante, take notes. By Shalini Passi Whenever I'm in London, my trip is centred around the galleries and museums I want to visit. This impacts where I stay, what I eat, and how I get about: I must first put together a list of the unmissable exhibitions and collections in the city, and then plan everything else. In doing so, I end up discovering the unique characteristics of each neighbourhood I visit. Let's start with Central London. At the heart of the city, Mayfair is an elegant upmarket district that is home to luxury fashion houses, established jewellers and tailors, and some of the city's best commercial art spaces. Here, you find 'Blue Chip' galleries such as Hauser & Wirth, Pace, and Marian Goodman. I love these spaces because they exhibit an interesting mix of modern and contemporary works, which reflects my own taste.
Hauser & Wirth shows a number of Indian artists, including Subodh Gupta and Bharti Kher. I love Pace for the interesting pairings they come up with in their exhibitions, comparing and contrasting artists who may have worked in different periods and/or places but whose work reflects similar ideas or styles. Central London is, of course, home to some of the city's most established public art institutes, such as The National Gallery, London at Trafalgar Square and the Royal Academy of Arts on Piccadilly. The RA is also a strong personal favourite of mine as it continues to present blockbuster exhibitions, such as the Antony Gormley retrospective (September 21–December 3, 2019), which I recently visited. A short stroll down Piccadilly will take you to the glorious Hyde Park, home to the Serpentine Galleries. The two galleries are just five minutes apart, and in summer, you can enjoy the Serpentine's annual architectural commission, which showcases new temporary buildings by international architects. Close by is the museum district, which includes the Natural History Museum, the Science Museum, and the world-renowned Victoria and Albert Museum. I always enjoy visiting the exhibitions at V&A immensely, and in particular, the fashion exhibits; this year, the Dior one made it to the list of my all-time favourites!
Head north, and you find some of the old guard: established commercial spaces such as the Gagosian and the Lisson Gallery. These are long-standing faithfuls in terms of delivering exhibitions of world-class artists in a commercial setting. Also in the north, you find Victoria Miro and the Parasol Unit Foundation for Contemporary Art. Both these galleries are extremely inspiring in their roster of bold artists, such as Yayoi Kusama and Grayson Perry, whose exhibitions always make for an exciting and invigorating experience. Here, I love witnessing fresh ideas bloom. It is indeed admirable how these leading galleries show their commitment towards continuous innovation through some of the most socially relevant art in the world. In recent years, South London has become a sort of firm fixture on my London art trail, with the arrival of the new Tate Modern Switch House building, which showcases a broader range of female and non-Western artists. Also on my itinerary are White Cube Bermondsey, one of Jay Jopling's iconic London spaces showing challenging works by artists such as Tracey Emin, and Newport Street Gallery, which shows works from the personal collection of Damien Hirst, including artists such as the inimitable Jeff Koons and the Chapman Brothers.
This is the perfect way to conclude my art tour, encountering new imaginations and visual languages that encapsulate my love for contemporary art and leave me moved, inspired, and engaged.
Related: Shalini Passi Recently Attended The Abu Dhabi Art Fair & Here's What She Discovered!
Written By