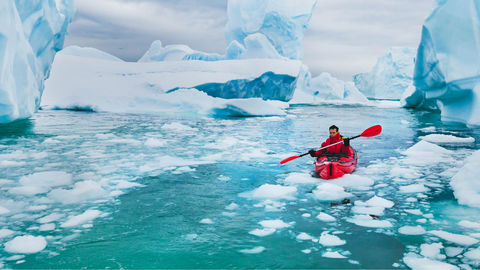 Antarctica triggers yet another alarm for the approaching woes of global warming — registers its warmest temperature ever at 65 degrees. By Kumar Shree
Antarctica recorded its highest ever temperature at 63.5-degree Fahrenheit in March 2015. 2019 was the warmest year for oceans and water bodies on planet blue. It was also the second warmest year on record. These are just the initial indications of what global warming will unveil in the near future. If these are not enough hints for us, here's another unpleasant news — Antarctica registers its new warmest temperature at 65-degrees Fahrenheit.
A recent measurement by the Argentina's National Meteorological Service reveals Antarctica's temperature to be at 65-degrees Fahrenheit (18.3 degrees Celsius). The temperature was registered on February 6, 2020. Needless to say, the never-ending expanse of white snow is taking all that heat. This, in return, will gradually melt that ice cover away. We know how fatal that is for the planet.
Many news reports also point Antarctica to be one of the highest warming regions on earth. It has registered a staggering rise of five degrees over just 50 years. If that does not alarm you, we don't know what will! We have another eminent fact adding to our miseries. Around 87 per cent glaciers in the western regions of the peninsula have retreated. All of this has happened since 2008, and that, take note, is an alarming rate.
Antarctica at 65 degrees — that phrase in itself screams of the upcoming horrors if we don't place enough curbing measures in place while there is still time. We know that 'nature is kind', but it also has its own ways of fixing things if taken for granted. We are taking the nature for granted. We must rise and take action before its too late.
Related: Scientists Just Snapped The First Ever Picture Of Foundation Of An Antarctic Glacier
Written By