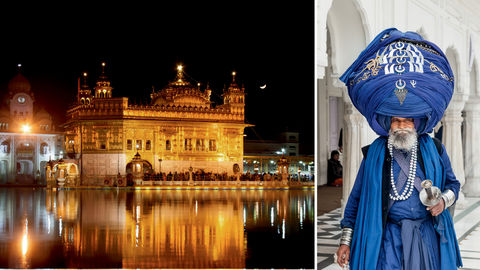 Home to the most revered Sikh shrine in the world, the historic city of Amritsar in Punjab was founded by Guru Ram Das in 1574 CE. It was named Ramdaspur after its founder, who also began the construction of Amrit Sarovar, the sacred lake that gives the city its current name. It was his successor, Guru Arjan Dev, who completed the project and subsequently built the Harmandir Sahib gurdwara in the middle of the lake in 1604. Maharaja Ranjit Singh, the founder of the Sikh empire, later decorated the Harmandir Sahib in gold, thus lending it the epithet of Golden Temple. Besides its religious significance, Amritsar features in many important historical events, including the Jallianwala Bagh massacre that took place in 1919 and the controversial Operation Blue Star in 1984. Today, Amritsar is a centre of spirituality and well known for its textile industry and handicrafts, as well as a thriving food scene. By Satarupa Paul LOCAL BUZZ
Amritsar's monuments and unique sites tell legendary stories of valour.
Ode to Heroes
On April 13, 1919, around 500 peaceful protestors were killed and over 1,000 injured by British soldiers at a public garden called Jallianwala Bagh. Today, at the site of that massacre stands a memorial, a Martyr's Gallery, with walls riddled with bullet holes and an eternal flame. Close by, the Partition Museum is the first-of-its-kind in the world to showcase—through a collection of newspaper clippings, photographs, and oral records—the suffering of millions who were affected by the Partition of India. The Khair-ud-Din Masjid is where the great call for war against the British was announced by scholar and religious leader Shah Attaullah Bukhari. The Punjab State War Heroes' Memorial and Museum by the Indian Army showcases the gallantry of the state's soldiers, and houses the world's largest sword memorial. Historical Landmarks
Over 250 years old, the Gobindgarh Fort is an imposing brick-and-lime structure that once housed Maharaja Ranjit Singh's treasure, including the famed Koh-i-Noor diamond. Today, it features four museums and hosts a light-and-sound show after dusk. The former summer palace of the king, the Maharaja Ranjit Singh Museum is located in the beautiful Ram Bagh Garden and displays arms, armours, paintings, coins, and manuscripts from his time. The historic Khalsa College, founded in 1892 and considered the highest Sikh institute for education, is an architectural gem built in the Indo-Saracenic style on a 300-acre campus. Cultural Nuggets
The original city of Amritsar, as established by Guru Ram Das and fortified by Maharaja Ranjit Singh with a wall and 12 gates, still stands today as the 'walled city'. Connecting various historic sites and museums within it is the kilometre-long Heritage Walk, with lamp posts, statues, and fountains reminiscent of European promenades. Spread over 12 acres, Sadda Pind is a living museum of a Punjabi village that offers a preview of the traditions, culture, and flavours of the state. Day Trips
One of the biggest attractions is the Beating Retreat Ceremony at the Attari-Wagah Border, about 30 kilometres away on the border with Pakistan. Every evening, soldiers from both countries meet at the border post to engage in a 30-minute display of showmanship and camaraderie. Close by, the fortress of Pul Kanjari, built by Maharaja Ranjit Singh, features a bathing pool, temple, gurdwara, and mosque, as well as a bridge that the Maharaja built after a court dancer lost her silver shoes while crossing a canal. The largest wetland in north India, Harike Wetland and Bird Sanctuary houses seven species of turtles and a variety of avian fauna. Also located in the Tarn Taran district is the Goindwal Gurdwara, where the third Sikh Guru lived and preached for 33 years, devised the idea of langar, or community kitchen, and built a baoli from which people of all castes, creeds, and religions could drink. Divine Icons
The most enduring legacy of the city is the Golden Temple, also called Sri Harmandir Sahib or Darbar Sahib. Made of marble, the two-storeyed structure is plated with 24-karat gold—everything including its domes, doors, and walls is gilded. It is surrounded by the holy Amrit Sarovar, the water of which is believed by many to have healing powers. The Guru Granth Sahib, the main sacred scripture of Sikhism, is seated inside the sanctum for 20 hours every day, before being taken in an elaborate, night-time ceremony to the adjoining Akal Takht Sahib, considered the highest temporal seat of Sikhism. Across the main street is the Guru Ka Mahal, a towering structure of white marble that was originally built as a humble hut to serve as the residence of Guru Ram Das. The one- of-its-kind Gurdwara Mata Kaulan is dedicated to a Muslim woman who was tortured for her devotion to Guru Hargobind before being rescued. She then devoted her life to the service of humankind. WINE & DINE
From iconic dishes named after the city to historic eateries, Amritsar has a buzzing food scene.
Legendary Dishes
If you want an experience unlike any other, try the meal of of rice, roti, dal, and vegetables at the largest community kitchen in the world. The 24×7 langar at the Golden Temple feeds over 80,000 people daily—at no cost. Perhaps the most famous dish to originate here is the Amritsari kulcha. Kulcha Land in Ranjit Avenue has been dishing out this staple for four generations. Another dish that borrows its name from the city is Amritsari fish tikka, which can be sampled at Makhan Fish and Chicken Corner. The ghee roast chicken at the next-door Beera Chicken House is a must-try, so is the mutton chaap at Adarsh Meat Shop in Ranjit Avenue. Sweet Treats
The creamy lassi at Ahuja Milk Bhandar in Katra Ahluwalia is available in a range of flavours, from mango to saffron. Kulfa is the Amritsari variant of the chilled kulfi and the ones at A-One Kulfa come with toppings including phirni, falooda, and rabri.
Fine Dining
The Amritsar outpost of Kobe Sizzlers serves a variety of steaks and sizzlers. For Chinese, Thai, and Indonesian dishes, head to Wall of Asia at Radisson Blu. Holiday Inn's Bell-A-Sia does the best Italian in town. For a grand buffet, stop by Moti Mahal at Golden Tulip Amritsar.
After Hours
One of the most frequented pubs in Amritsar, Peddlers, in Ranjit Avenue offers great food and groovy music in an upbeat ambience. Boasting lavish interiors and a spacious dance floor, Irish Beach offers an engaging play- and-party experience and a tempting menu of cocktails and bar nibbles. Spread across three levels, Stars N Bars, known for its draught beer and cheesy pizzas, is a sports bar, fine-dining restaurant, and club, all rolled into one. The BrewMaster in Ranjit Avenue is Punjab's first microbrewery that serves up freshly brewed beer over live performances. RETAIL THERAPY
Heritage markets offer a colourful array of traditional paraphernalia and local handicrafts.
Quintessential Buys
If you must buy only one thing from Amritsar, it should be a piece of clothing adorned with the traditional embroidery of Punjab called phulkari. Then again, so gorgeous is this local handicraft that you can never be satisfied with just one piece. For the most extensive range of phulkari saris, dupattas, and suits, head to Lahori Gate Market, Hall Bazaar, or Katra Jaimal Singh Bazaar. These age-old markets are also popular destinations for scoring silky-soft pashmina shawls and bright Punjabi juttis. All that Shines
Lahori Gate Market also offers locally-made pickles and jams, whereas Hall Bazaar stocks a large collection of lamps. With over 2,500 shops selling gold and silver jewellery, Guru Bazaar is the one-stop destination for jewellery shopping—especially the exquisite and laboriously-crafted traditional Jadau jewellery. Shastri Market and Old City Bazaar are other places for jewellery, the latter specialising in colourful glass bangles. Modern Malls
If an air-conditioned shopping space is what you seek, the glass-fronted sprawling malls of Amritsar with multi-brand outlets and food courts should do the trick. Trilium Mall is the most stylishly-designed with top brands, multiple dining options as well as one of the best multiplexes in the city. Celebration Mall and Alpha One Mall are other popular shopping complexes.
SMART STAYS
Accommodation options in the city are a good mix of leisure and business.
WelcomHotel Amritsar One of the most gloriously
designed five-star hotels in the city, WelcomHotel Amritsar exhibits a unique blend of vintage architecture and modern facilities. Spread across eight acres and located close to the airport as well as the Golden Temple, the hotel is built around a colonnaded mansion—the Sandhanwalia Haveli—that
traces its origins to the 1900s. Lovingly restored to showcase the cultural and architectural nuances of the era, the property exudes the charm of Amritsar's spiritual beauty. The 101 rooms and suites are appointed with modern amenities, while four dining outlets offer global and regional delicacies. A fitness centre, swimming pool, and ITC's signature Kaya Kalp Spa round up the offerings.
Taj Swarna The Taj Hotels' first property in the city, Taj Swarna features a slick global edifice with lavishly appointed rooms and suites that are an embodiment of traditional Indian opulence. The wellness centre has a well-equipped gym, whereas the outdoor swimming pool is the perfect place to unwind. The Jiva Spa and Salon has beautifully designed massage rooms offering holistic therapies. Dining options include an all-day multi-cuisine diner, a Chinese speciality restaurant, and an elegant bar. The 650-square-metre banquet hall can host events, and the hotel is designed to accommodate differently-abled guests.
Hyatt Regency Amritsar Located adjacent to the Mall of Amritsar, a 30-minute drive from the airport and about 15 minutes from the Golden Temple, Hyatt Regency Amritsar makes for a convenient stay for both leisure seekers and business travellers. This 248-key deluxe five- star hotel features rooms and suites with pool or city views and is fitted with every modern amenity, including luxurious beds, elegant baths, and ergonomic work desks to meet your workation needs. Besides a patisserie and a lounge, dining option here includes the North Indian bistro called Punjab Province. The hotel also offers the special #WeddingsWithHyatt programme that comes with a dedicated team to design and manage Indian weddings.
Ramada By Wyndham Amritsar Located in the heart of the walled city, within walking distance from important landmarks including the Golden Temple, Jallianwala Bagh, and Amritsar Main Market, this four-star hotel is now managed by the international hotel and resort chain of Wyndham. This no-alcohol and no-smoking property with 144 guest rooms has a welcoming atmosphere with a cordial guest service team available 24×7. On-site dining options include a multi-cuisine restaurant with a live kitchen, as well as a coffee shop that serves a range of quick bites. The property is especially convenient for hosting events, thanks to its many conference and banquet venues.
Related: Amritsar's Golden Temple Has Started Its Langar And Prasad For Devotees After Reopening
Written By