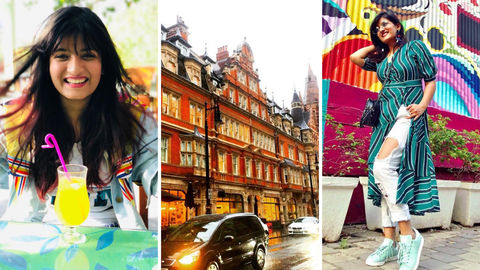 Mumbai-based celebrity stylist Amandeep Kaur has carved a niche in the country's fashion orb. Currently, she is styling Bollywood's heartthrob Vicky Kaushal! Ask her why does she work so hard and pat comes the answer – "To travel the world." By Priyanka Chakrabarti

1. Do you remember your first holiday?
I think my first holiday was in Mussourie with my family. I was four back then.
2. What has been your best 2018 holiday?
My favourite 2018 holiday was in New York. It was a lot of fun, especially because it was my first time in NYC, and I went with my sister after a very long time. We explored the city, walked to the Met museum, chilled at jazz clubs, and avoided taking Uber to save money!
3.

Who is your

favourite

travel buddy and why?
I am yet to find my favourite travel buddy. I enjoy travelling with my husband a lot, but I am an adventure-loving person, and he is not. I like doing multiple things — exploring everything possible, trying out different kinds of food, going to clubs and restaurants, museums and markets, and even indulge in some adventure sports, whenever possible. But at the same time, I don't like making my trips too hectic. It's a complex combination to crack, so I'm still looking for an ideal travel buddy who gets that!
4. Are you a beach person or do you like the hills?
I am a travel person — be it beach, hills, city or caves — I love them all!
5.

If you could pack only five things for a vacation, what would they be?
My swimsuit, a pair of comfortable shoes, a set of stylish yet comfortable pants and top, sunglasses and my phone.
6. We need your fashion guidance. While vacationing in summers, what are the top five ensembles one should carry?
Summer vacation should mean lots of sundresses, big hats, scarves (that can be styled in multiple ways) sunglasses, swimwear, and bright separates that can be styled in various ways with multiple things.
Ensembles:
A button-down cotton dress that can be styled in multiple ways: can be worn as a dress, opened and worn as a jacket over shorts and a vest, or can even be worn over a shorter dress as an added layer.
A big floral print flared midi-dress with a big hat and oversized sunglasses and minimal jewellery.
A bright skater skirt with a cool printed t-shirt and sneakers.
A bright kaftan-style cover-up to wear over the swimsuit while sunbathing.
A Bardot top with printed pyjama pants with strappy sandals and statement earrings.
7. Are you a fan of solo travelling?
I prefer solo travelling in a way — when I am meeting a group people I've never met before. I enjoy not knowing how my trip will unravel. I love making new friends. But, I'm not a big fan of absolute solo travel.
8.

Do you believe in the concept of slow travel?
Slow travel is nice when you are worn off from your everyday hectic life.
9. What's your take on conscious travelling?

Well, I feel everything we do every day, not just while travelling, should be conscious and we should try and reduce our carbon footprint as much as possible. In terms of travel, I feel I really avoid hiring cars if there's an option of public transport. I also enjoy walking, so that helps. I don't buy bottles of water or packaged food, and rather plan my trip in a way where I can carry my own water and stop at a local restaurant for an authentic experience. Also, I make an effort to not get my room serviced every day when living in a hotel, and I get towels and linen washed only when required.
10. What does travelling mean to you?
Travelling to me is just the most special thing. I work very hard every day to save for a good trip or two in a year. Travelling to me is like a chance at life again, to be able to shed my worn-off skin and rejuvenate my mind and soul. Travel is my life's purpose, and I'm extremely passionate about it. My dream is to not invest in properties or other expensive assets or have a big family — I just want to have enough money to see the world as much as possible by the time I grow old, with the people I love.
11.

F

avourite

cities around the world?
Amsterdam (Netherlands), Lucerne ( Switzerland), Leh (India) and Nelson (New Zealand).
12.

A destination that you want to visit?
I really want to see the Northern Lights in Norway.
13.

What does luxury travel mean to you?
Luxury travel to me is to fly someplace exotic and stay at a luxury villa/resort with a private bungalow inclusive of all the amenities, and a cook who can create anything I want or a sumptuous buffet for each meal!
14. What item(s) do you never travel without?
My passport, phone and a sense of adventure.
15.

Your top three luxury hotels around the world?
Taj, Cafe Royal London and Lebua hotels have been my most favourite luxury hotels. Though I prefer unique boutique hotels over luxury 5-star hotels.
Related: Meet Travel Blogger Shivya Nath: India's Very Own Shooting Star
Written By