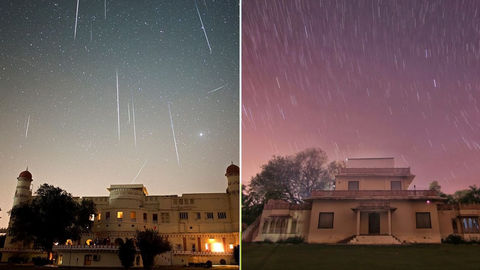 Just a few hours away from the capital, this palatial property by Aamod Resorts near Alwar in Rajasthan featuring a new stargazing observatory is every space-nerd's dream come true. By Sushmita Srivastav
Millions of twinkling stars adding glimmer to the pitch-dark sky, robotic telescope offering jaw-dropping views of the far-off galaxies and star clusters, random shooting stars breaking the monotony of the black every now and then, many fascinating stories of constellations been told, and all of this happening just a short drive away from Delhi. Sounds too good to be true, right? Well, as much dreamlike as it may sound, Alwar Bagh by Aamod (Sariska) has made this happen with their very own stargazing lab, and this is probably the best news for the curious stargazers from the city today!
Gone are the days when one had to travel to distant lands away from the polluted skies, pitch tents in the middle of nowhere, and carry hefty astro equipment just to see a constellation or two. The new Stargate Observatory at Alwar Bagh allows you to experience the otherworldly space life from up close at night, while your days are spent leisurely at the seven-acre resort.
Set with state-of-the-art equipment, the observatory is an effort by Stargate—India's first private space observatory chain, and Aamod Resorts to give way to amateur astronomy as a hobby among the inquisitive Indian travellers. Bordered by the guarding chain of Aravalli, and with the sprawling Sariska Tiger Reserve just at a stone's throw, there couldn't have been a better location for the set-up. For this part of land is quite blessed with an ethereal beauty and clear skies at most times. Add to it, a private session with a team of astronomical experts, science communicators and educators that will take you to the stars (quite literally!), as you listen to the ancient sky stories, and gaze at the intriguing Nebulae clusters, galaxies, different planets, comets, and other deep-sky wonders. The eight-inch GoTo telescope lets one indulge in planetary watch with much ease, and the Space & Astronomy Museum offers the guests to experience interactive sessions and space exhibits, and even try hand at astro-photography.
Offering tailored programmes for tourists, photographers, and students, Aamod Resorts is the first resort chain in India to set up an observatory within its premises, and it doesn't just end here. The resort, always keen on offering an array of unique experiences, has paint ball shooting, rope adventures, race tracks for remote-controlled cars, many lawn games to keep you busy till the dusk falls. You can also choose to laze in the pool or go trundling in the wild for a tiger safari in Sariska National Park… There's just so much to do—when, of course, you aren't sitting in awe, gazing at that vast, star-lit sky.
Related: 9 Travel Experiences in Rajasthan That Are Hard To Find Anywhere Else
Written By