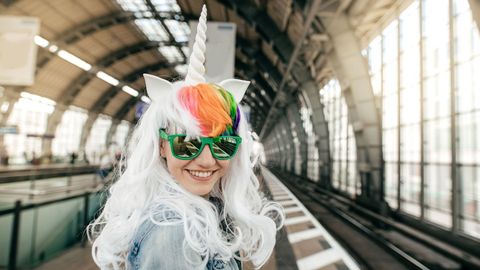 You usually have to go to a concert venue to hear live music, but in some countries, it's now possible to hop on a train and enjoy a musical performance while you ride from A to B.
Over the years, a host of musicians have performed in the underground corridors of Parisian subways. But far fewer have had the opportunity to do so aboard France's SNCF mainline trains. The I Gemelli ensemble will soon be doing so, as part of a partnership between SNCF Voyageurs, the Centre-Val de Loire Region and the Concerts d'automne festival. This musical group will give a surprise concert on Wednesday, October 4, aboard a Regio2N train departing from Paris-Austerlitz and bound for Tours. The exact train number and departure time have not been disclosed, to better surprise SNCF commuters.
All about the train in Europe that will serenade passengers with live music Some 20 singers and instrumentalists will perform a selection of pieces from the 17th-century Italian repertoire, under the direction of Chilean-born conductor Emiliano Gonzalez Toro. Passengers will enjoy the sound of lutes, archlutes and violas da gamba as they make their way to their destination. This is the first time an event of this kind has been organised on a French train.
But they're much more common on German trains, especially on board the Kulturzug. Every weekend, this "Culture Train" connects Berlin to the Polish city of Wrocław in four and a half hours. The journey may seem long to the impatient, but there are all kinds of entertainment to help passengers enjoy the ride, including electro DJ sets, tarot card readings, artistic performances, readings, language lessons, and more. In short, there's plenty to keep those aboard the Kulturzug entertained, and above all, to encourage them to take a trip across the border.
The Kulturzug was created in 2016 to encourage more Berliners to visit Wrocław. At the time, the Polish city had been chosen to be one of the European Capitals of Culture, along with San Sebastián in Spain. The Culture Train was scheduled to run for six months, but never stopped travelling its route through Eastern Europe, except during the Covid-19 pandemic. It is said to have welcomed nearly 100,000 passengers on board since 2016, as Oliver Spatz, one of the project managers, told The Guardian.
Now that the Kulturzug has made a name for itself, Kulturprojekte Berlin, the non-profit organisation behind the project, is thinking of offering further train journeys of this kind between Germany and Poland — and maybe even other countries too. All of which could prove another reason for travellers to ditch air travel and take the train.
Shop the best travel experiences here
(Hero and feature image credit: kate_sept2004 / Getty Images©)
Related: Berlin-Paris Night Train To Finally Return After Nine Years
Written By