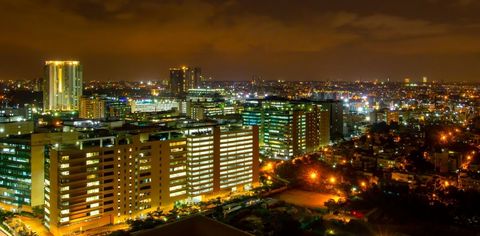 With a slew of new restaurants that offer great alfresco dining options, eating out in Bengaluru has many novel bites. Here are five new restaurants that have food with a view to match! By Bindu Gopal Rao
1. Ozaa Part of Oakwood Premier Prestige Bangalore, a premium long-stay property, this newly-launched rooftop restaurant specialises in grills. Ozaa—paired with a stunning view of the city's skyline, and live grills— showcases a harmonious blend of Lebanese, Jordanian, Moroccan, Greek, Syrian and other Mediterranean cuisines. This alfresco restaurant, complete with cool decor, can seat 30. Some must-try dishes include lamb arayes, muhammara, prawns in Emirati spices, adana kebabı, samke harra, kanafeh, etc. Do not miss their slow-cooked Spiced Moroccan Stew in a tajine.
Address: Oakwood Premier Prestige, UB City, Vittal Mallya Road, Lavelle Road
Reservations: +919591077995
Timings: 1200 to 2300 hours
Price for two: INR 2,500+ (without alcohol) / INR 3,500+ (with alcohol) Khmer Kitchen is located in the erstwhile home and writing studio of Girish Karnad, a stalwart of Indian literature and theatre—among full-grown trees. Dubbed the country's first Cambodian restaurant, it's menu is designed with love and passion for all things Cambodian. This Asian food lover's treat is a result of a collaboration between legendary Chef Kethana Dunnet (author of Cooking Cambodian), along with intensive culinary research by Chef Nak Rotanak (author of NUHM) and endless food trials with many Cambodian chefs.
Address: 97, 15th Cross Road, 2nd Phase, JP Nagar
Reservations: +91 7337808139 / 080-26597742
Timings: 1130 to 1830 hours
Price for two: INR 1,800 approximately (without alcohol) With 10,000 square feet of space, the sky is literally the limit at RR Nagar's 1522 The Pub. The open-air terrace is filled with greenery. While you sip on their signature cocktails, Smoke on Water and Road House Blues, bite into their coastal special food, too. The extensive menu has everything from pasta to kori roti. With a space that allows you to enjoy the city's pleasant climate, you will surely be compelled to enjoy your meal under the stars.
Address: 65, Shanthala Nagar, Residency Road
Reservations: +91 8068974545
Timings: 1200 to 0100 hours
Price for two: INR 1,200+
4. Patios A new-age progressive vegetarian kitchen that has evolved from the erstwhile Patio 805, Patios is a cosy dining space ideal for intimate meals. From Pan Asian favourites to Indian dishes with a twist, consulting Chef Sombir Choudhary and co-owners Diep Vu Ngoc and Nirav Rajani have ensured that a meal here is all about eclectic experiences. Nutri kulcha, asparagus cream cheese rolls, masala paneer bhurji samosa, spicy broccoli and water chestnuts dim sum, dhokla salad and saffron rasmalai milk are some must-try dishes here. The alfresco seating area offers five couple seatings, ensuring it is never crowded.
Address: 805, Ground Floor, 35 Cross, 9th Main, 4th Block, Jayanagar
Reservations: +918884999805 / +918026548805 / +919880544884
Timings: 1200 to 2400 hours
Price for two: INR 1,000+
5. Kazé Bar & Kitchen Kazé means wind in Japanese, and you're sure to get lots of it at this rooftop lounge and kitchen! Located on the 21st floor, Kazé Bar & Kitchen offers contemporary pan Asian cuisine cooked sous-vide, grilled, or steamed. Unique cocktails, champagne, wine, and sake are also a part of the extensive bar menu here. The food menu offers light nibbles from dim sum and sushi selections to classic dishes drawing inspiration from Japanese, Thai, Chinese and Vietnamese flavours. The lounge area is great for relaxed sit-downs, while the bar—with an extended open deck and a fine dining area, and an exclusive private dining room space, ensures panoramic views of the city's skyline.
Address: 909 SKAV, 21st Floor, Lavelle Road
Reservations: +918043020299 / +918043020399 / +918043020499
Timings: 1230 to 0100 hours
Price for two: INR 2,200+ (without alcohol) / INR 3,000+ (with alcohol)
Related: Open-Air Restaurants In Bengaluru: 25 Top Spots To Enjoy The City's Weather
Written By