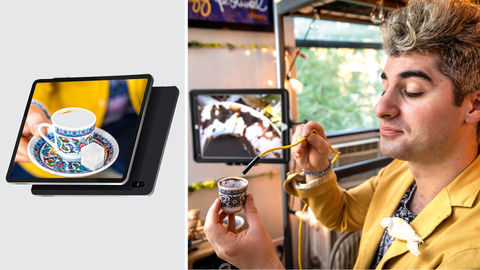 Dozens of Airbnb Online Experiences are filling in the void left by the absence of travel. We sampled a Turkish Fortune Coffee Reading session and found out that coffee can make our day in more ways than we thought! By Adila Matra
It was one of those days when the word 'self-isolation' was hitting a bit too hard. Google Earth options had been exhausted, yet that stubborn hankering for travel persisted. It was one of those days when fortune was in dire need of an overhaul. There couldn't have been a more opportune moment to stumble upon Airbnb Online Experiences. The recently launched venture lets you connect with hosts from around the globe via Zoom and participate in activities like tarot card reading, pasta masterclasses, virtual tours of farms, and meditation with Japanese monks. After scrolling through scores of options, I settled on Turkish Fortune Coffee Reading. Perhaps the host, Uluç Ülgen from New York, had the fortune fix I needed.
There were five of us in the 90-minute morning session. Ülgen looked a little weary—it was an hour past midnight in New York—but sounded upbeat. So did my fellow participants from Malaysia, Hong Kong, South Africa, and Belgium.
"You have to wish, flip, turn, and blow," Ülgen explained the ritual, and we followed suit. After finishing my coffee, I placed the saucer on the mouth of the near-empty cup, flipped it, rotated it clockwise, and blew on it. While the upside-down cup was left to cool, Ülgen waxed eloquent about the art of coffee reading. "It is poetry out of a cup." A communal experience, Turkish coffee reading dates back to the Ottoman Empire—in the 1600s. "Now, it is regarded as a petty crime in Turkey," Ülgen said woefully. Originally from the birthplace of coffee reading, Ülgen lives in New York. With the gift inherited from his father, he makes a living from telling fortunes of those who come knocking on his door. He reminded me of Banu Kazanci from The Bastard of Istanbul, without her eccentricities. I got a crescent moon and a cluster of stars in my cup. "You're going to emerge stronger in the face of challenges; it's going to be a time of spiritual change," Ülgen read my coffee mug. He also spotted two human figures where the
residue had trickled down to the saucer. "You are Olivia Newton-John, and your partner is John Travolta. There will be a celebratory time soon, where both of you will dance like no one's watching." I smiled. Fortune does indeed favour the bold. The Turkish Fortune Coffee Reading experience starts from INR1,967.
Related: These Airbnb Online Experiences Are Perfect To Make This Mother's Day Extra Special
Written By